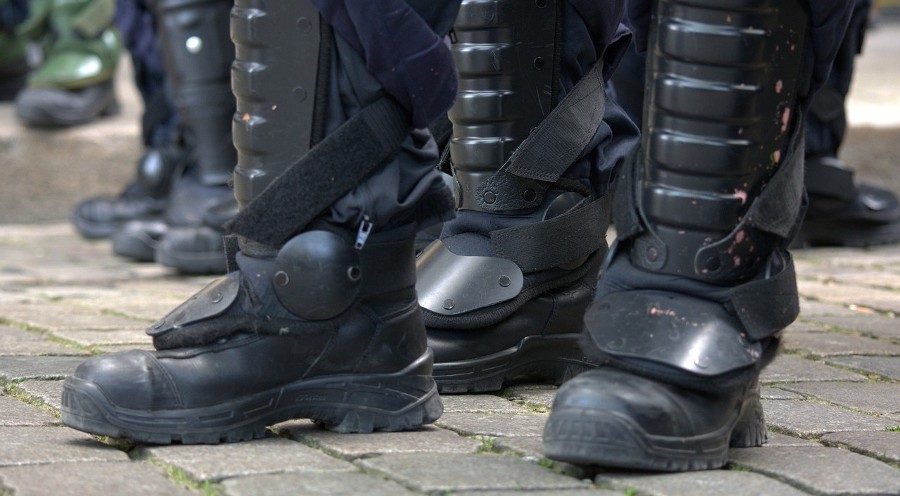 From Dr Mercola

VIDEO AT THE LINK

Story at-a-glance
Agenda 21 (Agenda for the 21st Century) is the inventory and control plan for all land, water, minerals, plants, animals, construction, means of production, food, energy, information, education and all human beings in the world

This roadmap for global totalitarianism was agreed to by 179 nations, including the U.S., at the 1992 Sustainable Development conference in Brazil

We've seen various facets of Agenda 21 being implemented throughout the last three years, under the cover of biosecurity and the global COVID-19 pandemic. The Green New Deal (Green Agenda), "Build Back Better," the Fourth Industrial Revolution (the transhumanist movement) and The Great Reset all further and facilitate the implementation of Agenda 21

Agenda 21 is based on the ideology of "communitarianism," which argues that "an individual's rights should be balanced against rights of the community." Community, however, in the mind of the globalists, is made up of nongovernmental organizations (NGOs), corporations and government, which are to dictate what happens around the world. The people are not really part of the equation

"Sustainable development" is NOT about recycling or making sure there's enough food and resources for everyone. It's about moving populations from rural and suburban areas into concentrated city centers where they and their use of resources can be monitored and controlled

From tlavagabond.substack.com via David Icke
Scotland witnessed an unprecedented and unnatural spike is neonatal death reported between September 2021 and March 2022 . According to the National Institute of Health (NIH), neonatal death is defined as "the death of a live born infant, regardless of gestational age at birth, within the first 28 completed days of life."1
In May of 2022, the BBC reported that Scotland saw a total of 18 neonatal deaths in March of 2022, which averaged out to 4.6 deaths per 1,000.2. The BBC also reported that this alarm was first sounded in September of 2021 when the spike reached 4.9 deaths per 1,000. This was an increase from 2.1 deaths per 1,000 in 2020. According to this BBC article:
Long-term trends show neonatal mortality has reduced by 10.2% in Scotland, from 1.66 per 1,000 live births in 2013 to 1.49 deaths per 1,000 live births in 2019…
…Deaths of newborn babies have fallen steadily in recent decades with the mortality rate per 1,000 births dropping from double figures in the 1970s to 2.1 in 2020.
Regardless of where you calculate the increase from, you can see there is a substantial increase in neonatal death starting in 2021. In calculating the numbers from 2020 (2.1 per 1,000) to the maximum spike in September of 2021 (4.9 in 1,000), you see an increase of 133.33%
READ AT THE LINK (INCLUDES VIDEO)
https://tlavagabond.substack.com/p/mothers-vaccination-status-excluded

RELATED:
US OBGYN takes down NZ Govt advisor Dr Turner over promoting the CV shot for pregnant women (Essential info)
STOP the Infanticide! 5,000% Increase in Fetal Deaths Following COVID-19 Vaccines!
Mass cremations! for babies of injected mums
Sen. Schumer calls for REPLACEMENT of Americans who can't have babies after mRNA depopulation jabs
The Jab & Pregnancy: NZ midwives report entire month's caseload LOST! ...Miscarriage rate in first trimester 81-91%
Details

Category: CV Injection Deaths Injuries
Hits: 31
Write comment (0 Comments)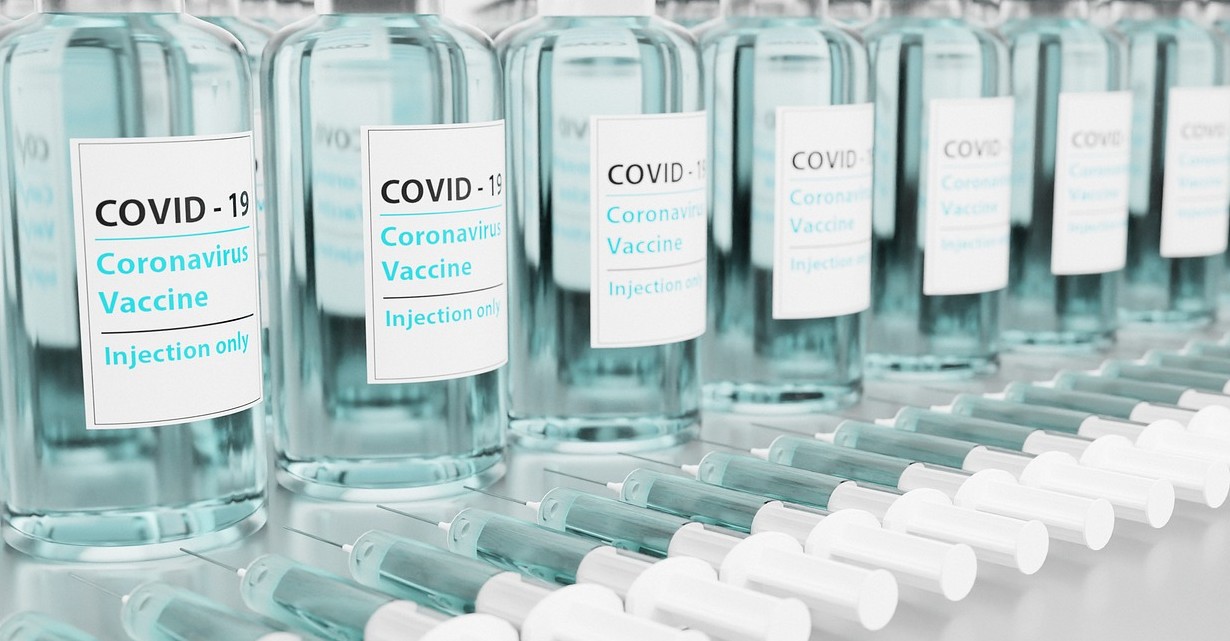 From Life Site News
TWNZ COMMENT: Remember this article from 2019?
A US court case in 2018 revealed there's been no quality control over vaccines manufactured by big-pharma for at least 32 years

---
Australian physician put droplets of Pfizer vaccine and blood of vaccinated patients under a dark-field microscope and filmed "bizarre, strange, metallic structures that look like circuitry and microchips" that "seem to respond to electromagnetic fields."
(LifeSiteNews) — A recent analysis of documents obtained by freedom of information lawsuits reveal COVID "vaccine" manufacturers such as Pfizer, Moderna, and Janssen are only "figureheads" in the production of experimental injections that are actually produced, fully controlled and distributed by the U.S. Department of Defense (DOD).
Research conducted by retired pharmaceutical industry executive Alexandra Latypova discovered that "kind of like an iceberg" these biological products are "made by a consortium of companies" that are "traditional and nontraditional suppliers to the Department of Defense."
Though the public sees Pfizer, Moderna and Janssen being represented everywhere as the products' manufacturers, in reality they "are involved [only] somewhat in some pieces of [the production process]," Latypova told Dr. Peter McCullough in an America Out Loud interview released November 8.
In addition, "possession [of the product] is never taken by anybody other than [the] U.S. federal government," she said, resulting in a situation where the methods of production and contents of these products "cannot be traced."
Details

Category: Covid Experimental Injection
Hits: 37
Write comment (0 Comments)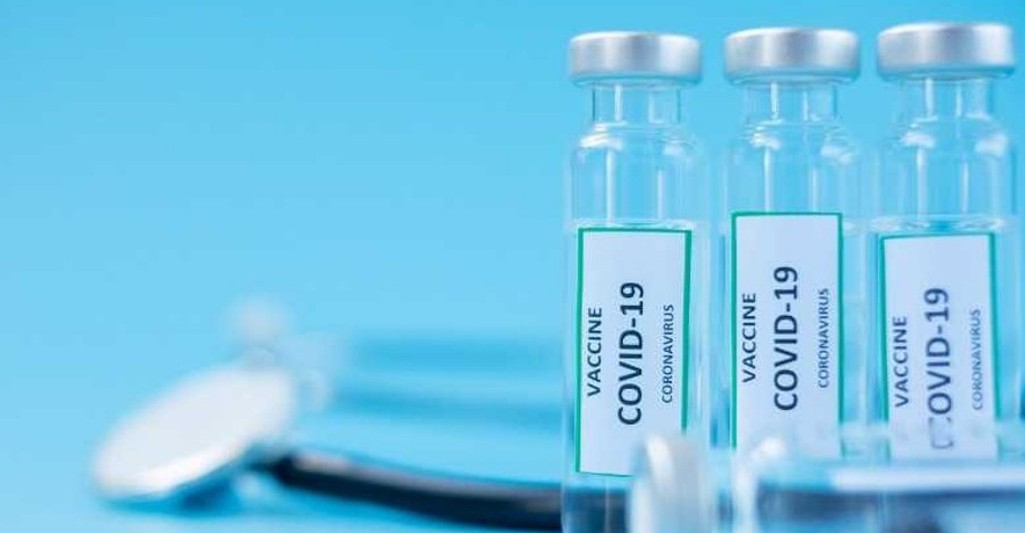 As the published Covid science narrative evolves overseas, Professor Baker is doing his best to prop it up here with his own special brand of magic beans.
At this point in time, the research findings of harm from the Pfizer vaccine have become overwhelming, but Baker is sticking closely to the safe and effective fantasy.
Even the most timid amongst us, fearful of visiting the internet, might have noticed that the vaccine doesn't actually work, but Baker, in a kid gloves interview with Sean Plunket of The Platform, reassured us all that the mRNA biotech vaccine was still protecting us from serious illness and death. Is this misleading us?
The incredibly pro-vaccine Washington Post varies from Baker. It has now finally stopped holding the line. It headlines with "It's no longer a pandemic of the unvaccinated". It reports that even the US CDC, with a lack of a centralised health system and with its penchant for figures that exaggerate vaccine effectiveness, are roughly estimating that 58% of Americans who died from Covid in August are vaccinated. So the vaccinated are dying of Covid contrary to the Baker doctrine. Unbelievably, like Baker, the Post thinks this means we need more vaccines???
Details

Category: CV Injection Deaths Injuries NZ
Hits: 31
Write comment (0 Comments)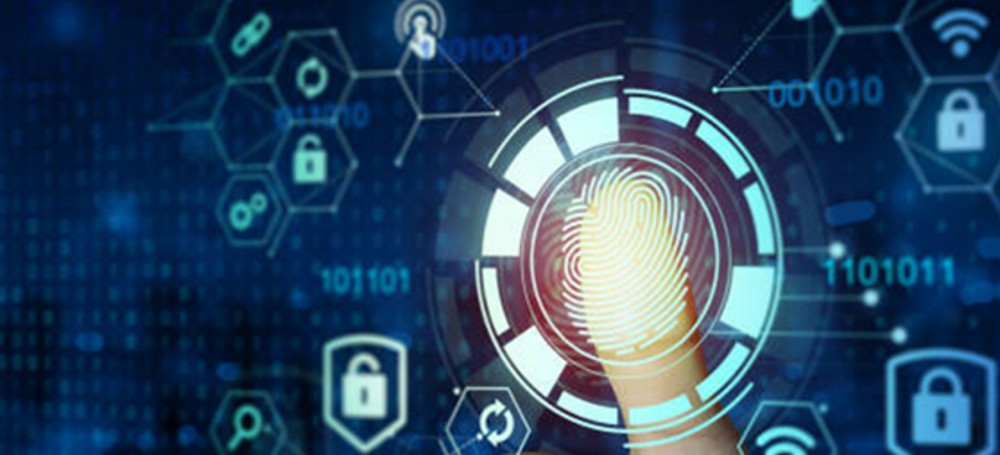 From expose-news.com
New Zealand's Managed Isolation and Quarantine ("MIQ") program were keeping records of its staff during the "pandemic" using a JNCTN app. Now, JNCTN-produced software tools are seeking to serve as digital ID verification for staff of other organisations.
JNCTN has partnered with a UK digital ID company Yoti and NEC New Zealand. The JNCTN/NEC partnership integrates JNCTN's cloud-based solutions within NEC's biometric authentication technology and processes
Yoti has also partnered with the Scottish Government to provide a digital ID system. At the same time as partnering with Yoti, the Scottish Government partnered with cloud solutions provider Brightsolid.
The parallels between the two countries are not a coincidence.
New Zealand's Progression Towards Digital Identities
Compulsory managed isolation and quarantine was announced by Prime Minister Jacinda Ardern on 9 April 2020, with the program coming into effect for people boarding flights to New Zealand from midnight that day. Anyone entering New Zealand was required to enter MIQ and isolation facilities were opened.
Details

Category: Agenda 21/30
Hits: 71
Write comment (0 Comments)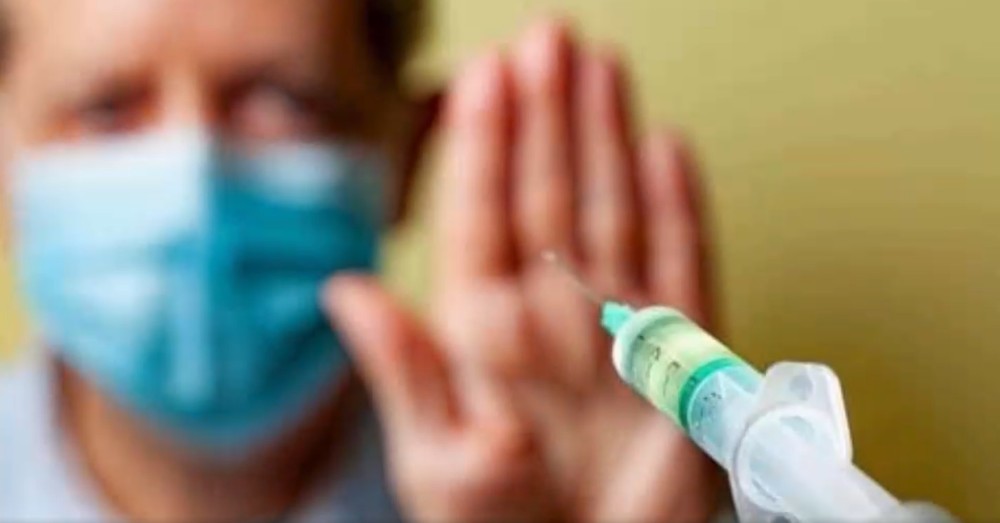 From expose-news.com
(Note this article is from June 2022)
One of the confidential Pfizer documents that the U.S. Food and Drug Administration (FDA) has been forced to publish by court order reveals that approximately 800 people never completed the phase 1 Pfizer Covid-19 vaccine clinical trial in the USA due to either losing their life, suffering a serious adverse event or suddenly withdrawing their consent.
The US Food and Drug Administration (FDA) attempted to delay the release of Pfizer's COVID-19 vaccine safety data for 75 years despite approving the injection after only 108 days of safety review on December 11th, 2020.
But in early January 2022, Federal Judge Mark Pittman ordered them to release 55,000 pages per month. They released 12,000 pages by the end of January.
Since then, PHMPT has posted all of the documents on its website. The latest drop happened on 1st June 2022.
One of the documents contained in the latest data dump is '125742_S1_M5_5351_c4591001 fa interim discontinued patients.pdf'.
The document provides a 112-page list of subjects who withdrew from the phase 1 clinical trial of the Pfizer Covid-19 injection, and provides a vague description as to why.
Details

Category: CV Injection Deaths Injuries
Hits: 83
Write comment (0 Comments)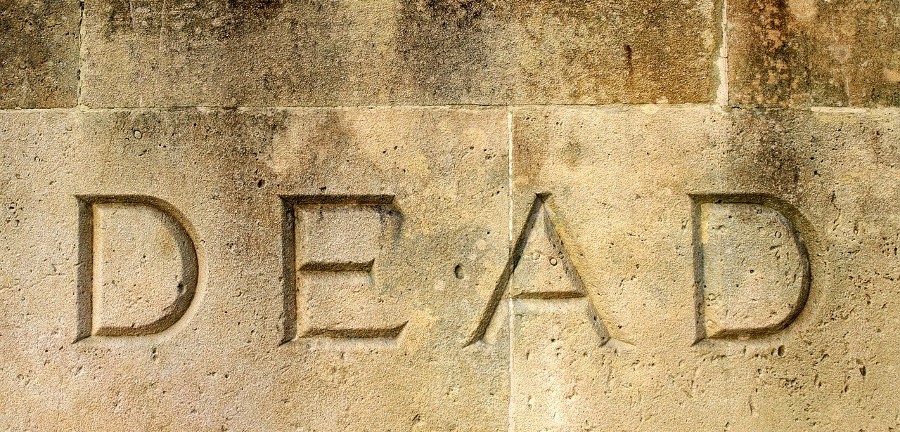 (Note: this doco also features NZ whistleblower funeral director Brenton Faithfull speaking out) TWNZ
Why do we never believe them? For centuries, the global elite have broadcast their intentions to depopulate the world - even to the point of carving them into stone. And yet… we never seem to believe them.
The Stew Peters Network is proud to present DIED SUDDENLY, from the award winning filmmakers, Matthew Skow and Nicholas Stumphauzer.
They are the minds behind WATCH THE WATER and THESE LITTLE ONES, and now have a damning presentation on the truth about the greatest ongoing mass genocide in human history.
WATCH AT THE LINK
https://rumble.com/v1wac7i-world-premier-died-suddenly.html
Details

Category: CV Injection Deaths Injuries
Hits: 54
Write comment (0 Comments)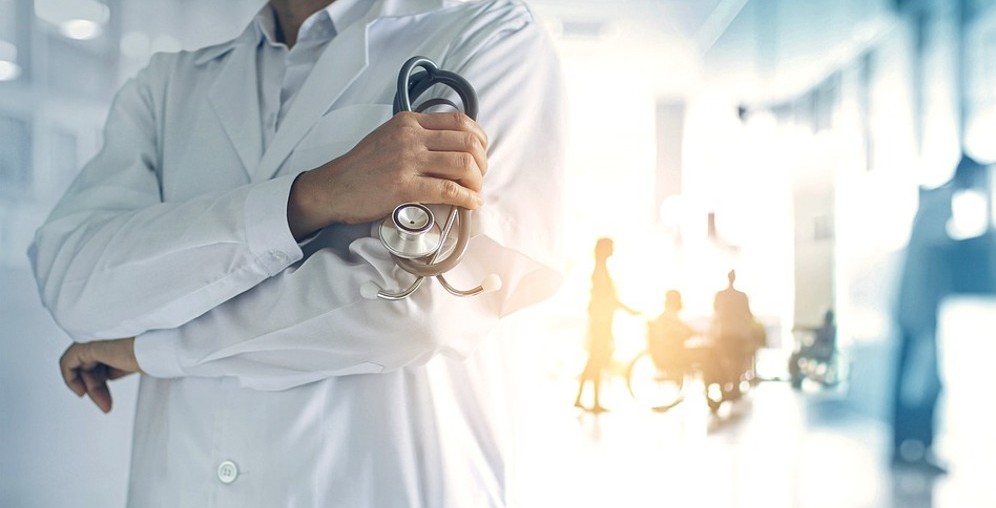 Video Source: CHD.tv posted at Rumble by Real Truth Real News:
Doctors Charles Hoffe, Stephen Malthouse, Christopher Shaw and guest doctor William Makis discuss the mysterious sudden deaths of 80+ Canadian doctors and the rapid turbo cancers they are now seeing in patients. They also discuss deleted death data, smear campaigns, case studies and more.
Useful info added below the video at its source.
WATCH AT THE LINK
https://rumble.com/v1twr1m--canadians-doctors-discuss-the-covid-vaccine-disaster-sudden-deaths-turbo-c.html
Image by Tung Nguyen from Pixabay
Details

Category: CV Injection Deaths Injuries
Hits: 71
Write comment (0 Comments)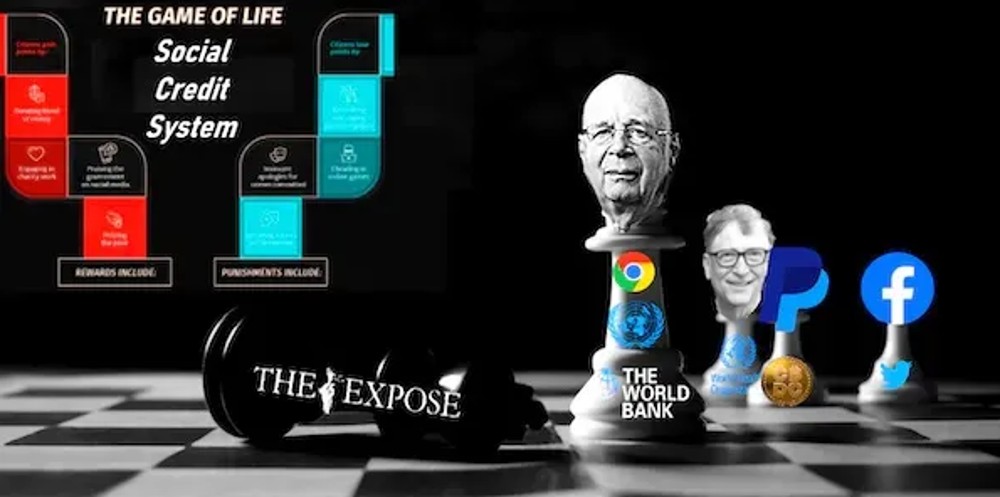 From expose-news.com
"It would appear it is now a criminal offense to tell the truth.

That's because access to over two-thirds of the funds The Exposé needs to operate was restricted without warning towards the end of October, simply because of the work we are doing to expose the Establishment's actions and true intentions.

This has highlighted the enormous dangers of the cashless society that your Government is now trying to impose under the instruction of the United Nations, World Economic Forum and Central `Banks."
TWNZ comment:
The Exposé has been hamstrung by the blocking of access to their funds, kindly donated by an appreciative public. Incredible! This is how far tyranny has advanced. Don't think this cannot happen in NZ. It already has in quiet & surrepticious ways. To his dismay, this man lost everything for exposing corruption. Of course you will never hear about this in lamestream media. (I have heard of others also. Peruse the LG Watch pages at the previous link). Please consider donating to the The Exposé. Their info is always excellent & on point. They are dedicated to digging up and bringing you the truth... clearly at great cost. Note, I am adding related articles below also. There are so many now, from hereon I need to group them rather than post individually. Thank you for reading.

---
Details

Category: Covid Experimental Injection
Hits: 77
Write comment (0 Comments)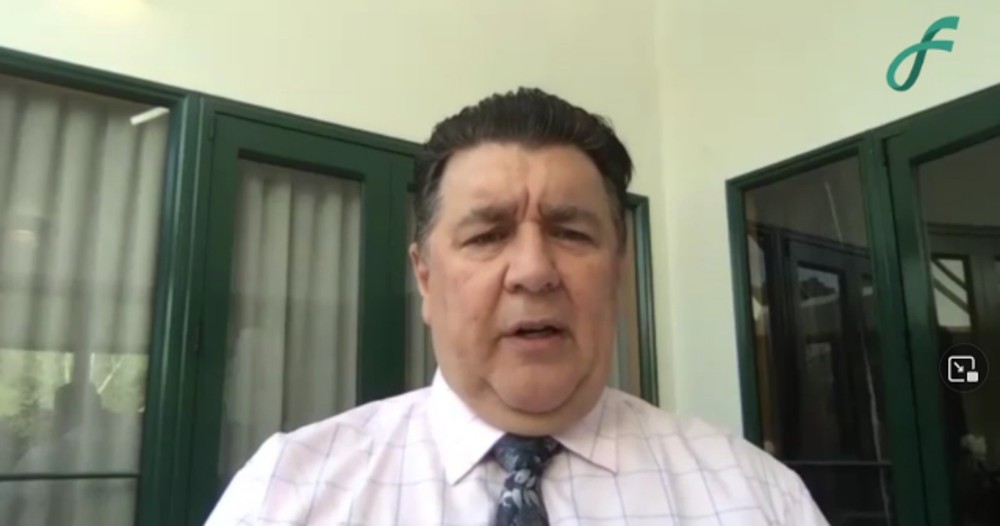 From FreeNZ with Liz Gunn:
"For the last 1.5 years, he has asked every family that came to his funeral home whether there was a jab involved. 95% said yes, in the last two weeks."
TWNZ comment: We have posted here a previous interview with Brenton Faithful. This interview is as explained in the video info cited below. Brenton provides some quite disturbing observations. One in particular is the official response given to a fellow funeral director who reported to the NZ Herald, his concerns about excess deaths. This is a must watch & do share it around ... it contains important information:
We recorded a first interview with funeral director Brenton. We are publishing it now, as it contains the information Brenton was seeking to explain to Sean Plunket, who attempted to bully and deride him at the time.
Details

Category: CV Injection Deaths Injuries NZ
Hits: 85
Write comment (2 Comments)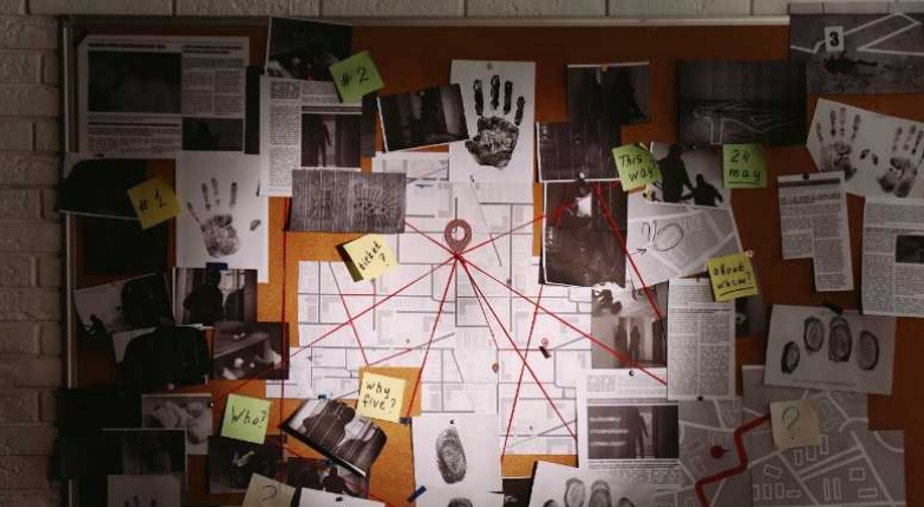 From hatchardreport.com

For a few months now, we have been writing about record high all cause death rates. We are not alone; highly vaccinated countries around the world are having the same problem. So why is no one taking any notice?
Lives have become a little cheap. Apparently, no more so than in the minds of some of our journalists. Lynley Ward is the news director of the NZ Herald. Last night the Herald published her assessment of elevated all-cause mortality so far in 2022 under the title "Covid-19 Omicron outbreak: Infection deaths behind New Zealand's record 2022 mortality rate". Yes, she is right. Infection deaths are behind New Zealand's record 2022 mortality—a long way behind. The unhappy matter of at least 2000 extra deaths in 2022 unrelated to Covid doesn't seem to bother her. It bothers me.
The article discusses a lot of data but manages to hide the obvious—deaths are up all round and it's not due solely to Covid. We are told that the elderly are dying, that Maori and Pasifika are dying too young, and that deaths are affecting all age groups. Sadly these stats have always been true. What is actually worrying about the 2022 figures?:—Many more people are dying among every ethnic group and every age bracket, too many to dismiss as inconsequential or blame on Covid

Details

Category: CV Injection Deaths Injuries NZ
Hits: 66
Write comment (0 Comments)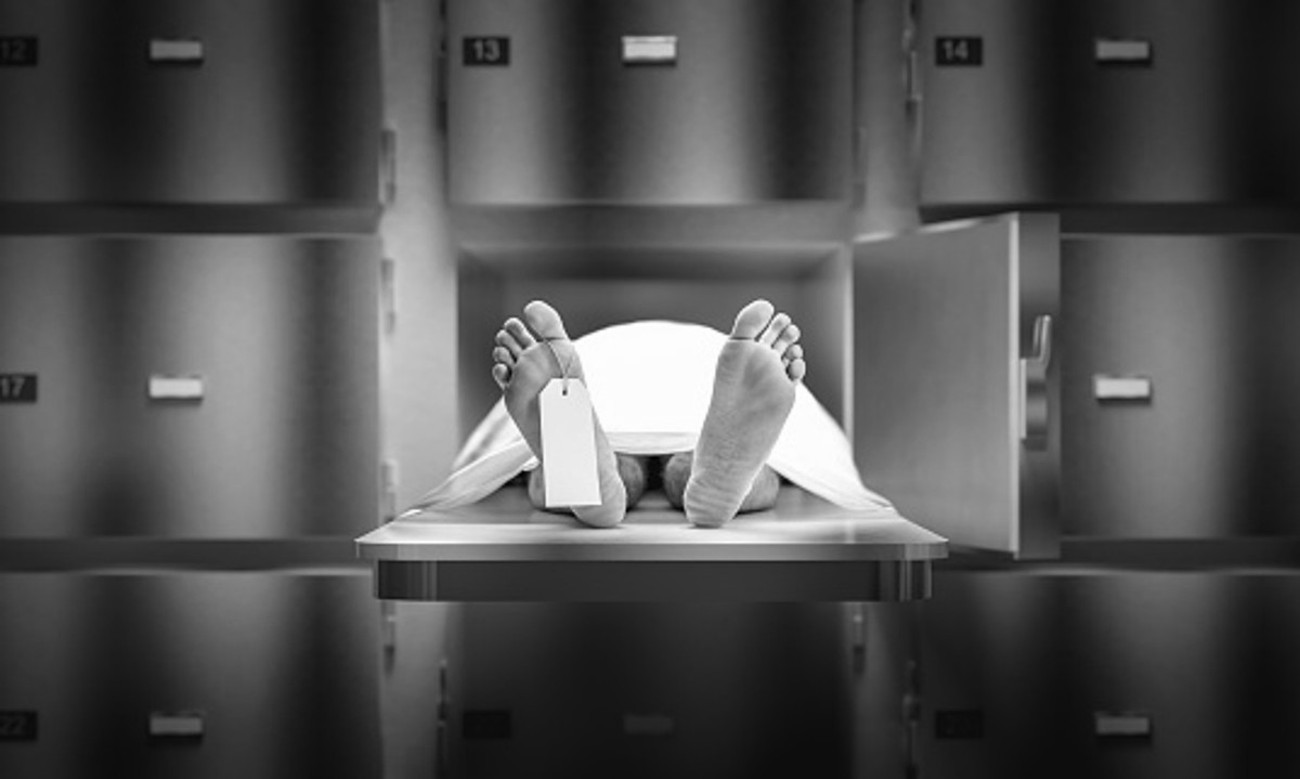 Investigation into Record Levels of Excess All-Cause Deaths is Required
To: NZ Police Commissioner Andrew Coster
Acting Chief Coroner Anna Tutton
I very much appreciate your role to protect the public and inform the bereaved in the context of our system of criminal and civil justice. Your role must have been especially taxing during the pandemic, since many of the issues involve specialised knowledge of novel biomedical interventions. You have no doubt been guided by qualified experts.
I am a person with experience in the analysis of social indicators, including crime, health, quality of life, and economic indicators, using time series analysis and panel regression analysis. I was formerly a senior manager at Genetic ID, a global food safety testing and certification company (now known as FoodChain ID). Our company used methodologies from the cutting edge of biotechnology research.
It appears from the most recent record of adverse effects of mRNA vaccination reported to CARM and tabulated by Medsafe that 177 people have died proximate to vaccination. A much larger number (64,041) of non-fatal adverse effects have been reported. Medsafe reports (Table 8) that in general the recorded number of deaths has been lower than the expected number deaths in the monitoring period. No doubt you have felt reassured by this analysis.
Details

Category: CV Injection Deaths Injuries NZ
Hits: 75
Write comment (1 Comment)

From expose-news.com
EXCERPT: "... the most horrific statistic here is that 90% of the deaths among the vaccinated were among people who had been given at least three doses of a Covid-19 injection"

Official figures published by the UK Government reveal the fully/triple vaccinated population have accounted for over 9 in every 10 Covid-19 deaths in England over the past year, 91% of all Covid-19 deaths since the beginning of 2022, and 94% of all Covid-19 deaths since the beginning of April 2022.
On the 6th July, a UK Government agency, known as the Office for National Statistics (ONS), published data on deaths by vaccination status in England up to 31st May 2022.
The latest dataset from the ONS is titled 'Deaths by Vaccination Status, England, 1 January 2021 to 31 May 2022', and it can be accessed on the ONS site here, and downloaded here.
READ AT THE LINK

https://expose-news.com/2022/11/01/triple-jabbed-91-percent-covid-deaths-this-year/
Photo: pixabay.com
Details

Category: CV Injection Deaths Injuries
Hits: 83
Write comment (0 Comments)

From https://principia-scientific.com
Recently, a Brisbane GP decided to find out, putting droplets of vaccine and the blood of vaccinated patients under a dark-field microscope.
That's a more radical decision than it might sound, but what he, and others, are finding is disturbing.
According to Sasha Latypova, a scientist with 25 years of experience in clinical trials for pharmaceutical companies, the contract between Pfizer and the US government prohibits independent researchers from studying the vaccines.
They claim it would 'divert' these precious resources away from their intended use fulfilling an 'urgent' need.
Is that true in Australia? Who knows? All the Commonwealth Department of Health has said about its contract with Pfizer is that it is commercial-in-confidence.
Details

Category: CV Injection Deaths Injuries
Hits: 168
Write comment (0 Comments)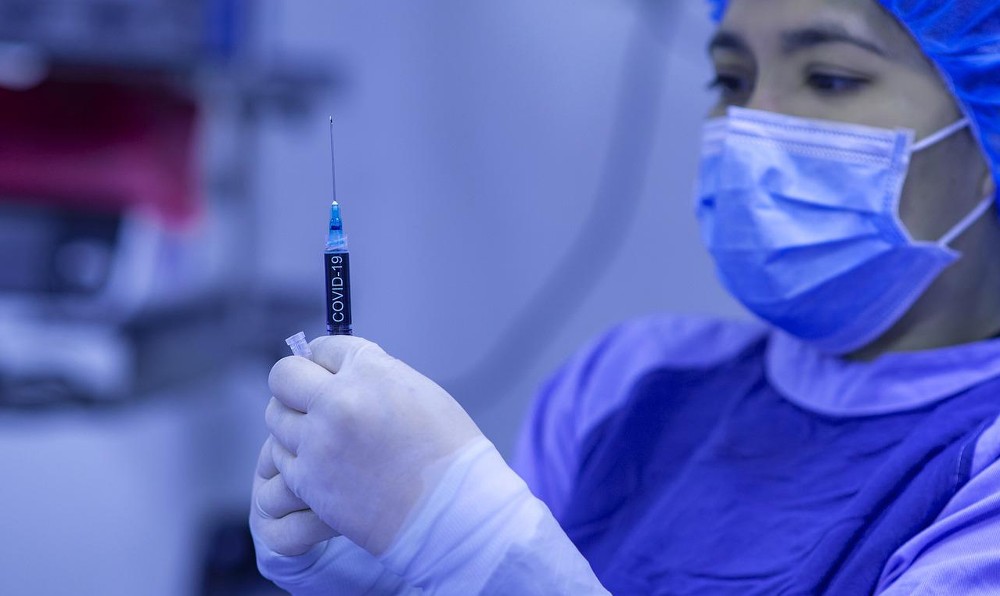 From Dr Mercola
QUOTE: "... the latest COVID variant, dubbed BQ, is infecting the jabbed at a rate of 3-to-1 compared to the unjabbed. It also appears to favor those who got jabbed more recently".
STORY AT-A-GLANCE
The U.S. Centers for Disease Control and Prevention has publicly warned that COVID is one of the Top 10 causes of death in children aged 5 to 11, yet when asked to produce the data, they admitted they never conducted an analysis for that age group

The CDC has also lied about Pfizer's study results. While claiming the Pfizer jab was 92% effective for those with previous COVID infection, the actual trial data found NO evidence of efficacy in those with previous infection

In July 2021, the U.S. Food and Drug Administration quietly disclosed finding an increase in four types of serious adverse events in elderly people who received Pfizer's COVID jab: acute myocardial infarction, disseminated intravascular coagulation, immune thrombocytopenia, and pulmonary embolism. However, more than a year later, that study still has not been published

The FDA is also hiding other studies. Buried inside a study protocol, the FDA discusses findings from an unpublished "cohort study of the third dose safety in the Medicare population where historical controls were used." In that Medicare study the FDA found a significant risk for immune thrombocytopenia and acute myocardial infarction among those with prior COVID-19 diagnosis, as well as an increased risk of Bell's palsy and pulmonary embolism in general

Analysis of the CDC's Mortality and Morbidity Weekly Reports (MMWR) reveals the CDC is systematically (and automatically) hiding jab-related deaths, particularly in categories like cancer, cardiac deaths and strokes, to make the shots appear unrelated to excess deaths
Details

Category: CV Injection Deaths Injuries
Hits: 115
Write comment (0 Comments)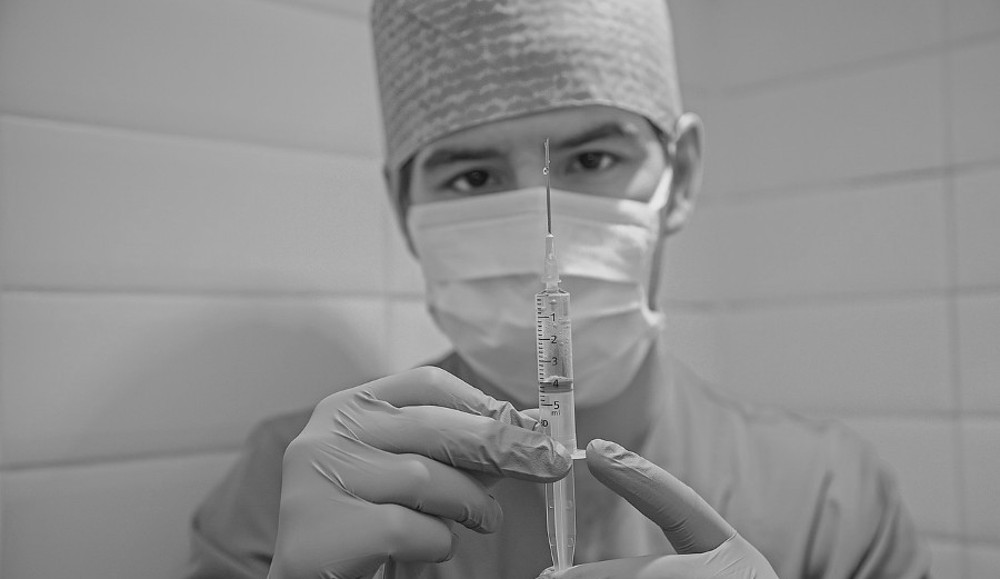 Since posting this in 2017 at the Rangitikei site, all references to the original article are now gone. Searching for it brings up plenty of 'fact check' material about how 'angelic' the Gates Fndn is and never would they wish to depopulate Africa. The Royals would though… note. Just as an aside.
I did find this article however (there's a pdf in it titled: HCG Found in WHO Tetanus Vaccine in Kenya Raises Concern in the Developing World, download it before it disappears too):
BOMBSHELL science paper documents the depopulation chemical covertly spiked into vaccines
Read on for the original article:
Disturbing isn't it and not so far fetched given the powers that be have openly spoken of the need to reduce the world's population. Right there in plain sight on the Georgia Guidestones (google that). If still in doubt research the Eugenicist movement. You will be surprized. Once openly and shamelessly espoused, it's gone more underground now. The Corbett Report (corbettreport.com) is an excellent resource on this topic. Here is a linkto articles exposing Gates' association with eugenics. EWR
Details

Category: Medical Industry / Pharma
Hits: 82
Write comment (0 Comments)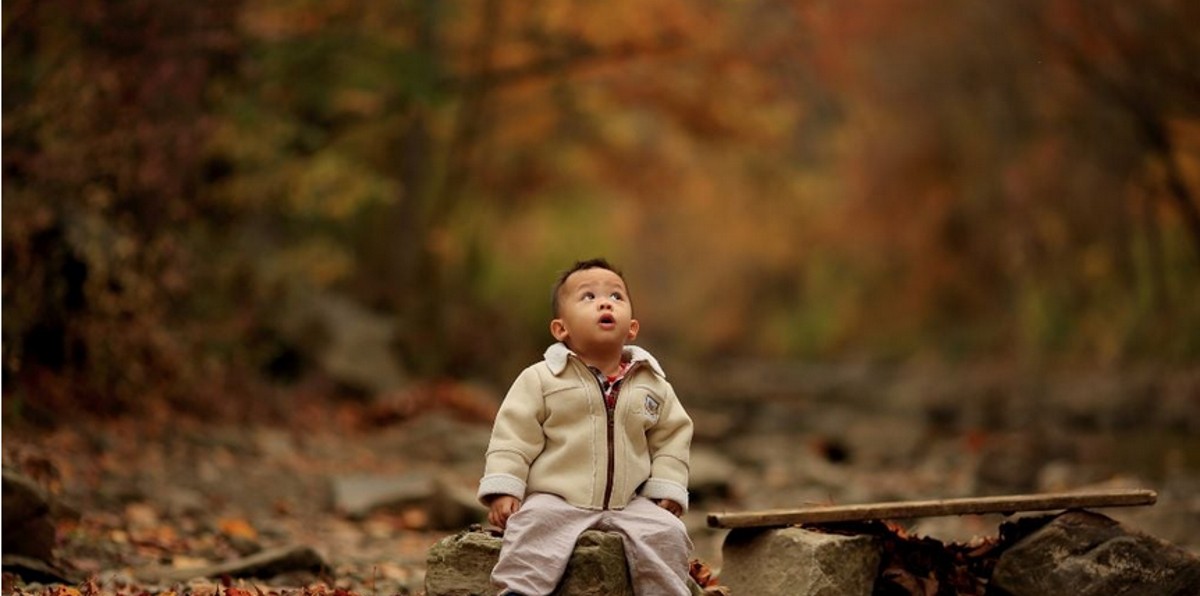 Injecting Children with the mRNA COVID Gene Injection – or Any of the COVID Injections – Can be Very Damaging to Their Developing Innate Immune System.
We have written extensively on the increased deaths in young people, e.g here, particularly, and the elephant in the room causation that is the covid-19 jab program. This real life horror movie is covered in a new post by resarcher Peter Halligan, one of many analysts who has followed the UK government's official monthly stats with morbid fascination and dread.
Our title above is that of a vitally important and straightforward plea to parents by Dr Paul Alexander, to understand the risks posed to developing immune systems by Covid-19 injections. An expert in epidemiology and evidence based medicine, university professor and member of the Whitehouse Covid-19 Taskforce in the early days of the pandemic, Dr Alexander left Washington after seeing how medical politics was clearly trumping good science.
Details

Category: CV Injection Deaths Injuries NZ
Hits: 60
Write comment (0 Comments)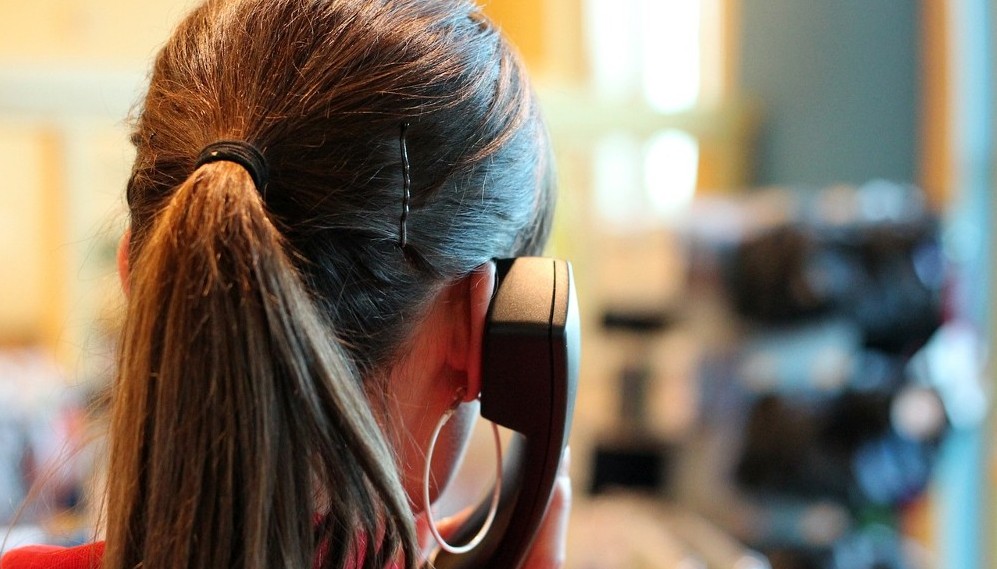 From seemorerocks.is
People may laugh (and the messsage is so proposterous it is hard not to).

However, although the message is delivered in a kiwi accent, which makes it all a bit naive but well-meaning this is straight out of the copybook of the KGB or Gestapo.

They may not (yet), be knocking at doors but the methods are those of any tyranny or totalitarian regime –

"if you see something, say something"
For those that don't know, the NZSIS (Security Intelligence Service) are the country's spooks who spy on you and I while the GCSB (Government Communications Security Bureau) are those that spy on behalf of the Five Eyes.
TWNZ comment: there have been knocks at doors actually. Vinny Eastwood had around 6 random visits by the Police around the time of the gun confiscations. They were curious visits because there appeared to be no real reason given why. They just showed up for a chat. An article is at the link however the video has predictably long gone from YT. Here is an interview on topic at Vinny's Bitchute channel :
https://www.bitchute.com/video/1nv4df3MhX6m/
READ AT THE LINK
https://seemorerocks.is/new-zealand-security-agency-is-asking-kiwis-to-dob-in-their-fellow-citizens/
Image by Gundula Vogel from Pixabay
Details

Category: Agenda 21/30
Hits: 300
Write comment (0 Comments)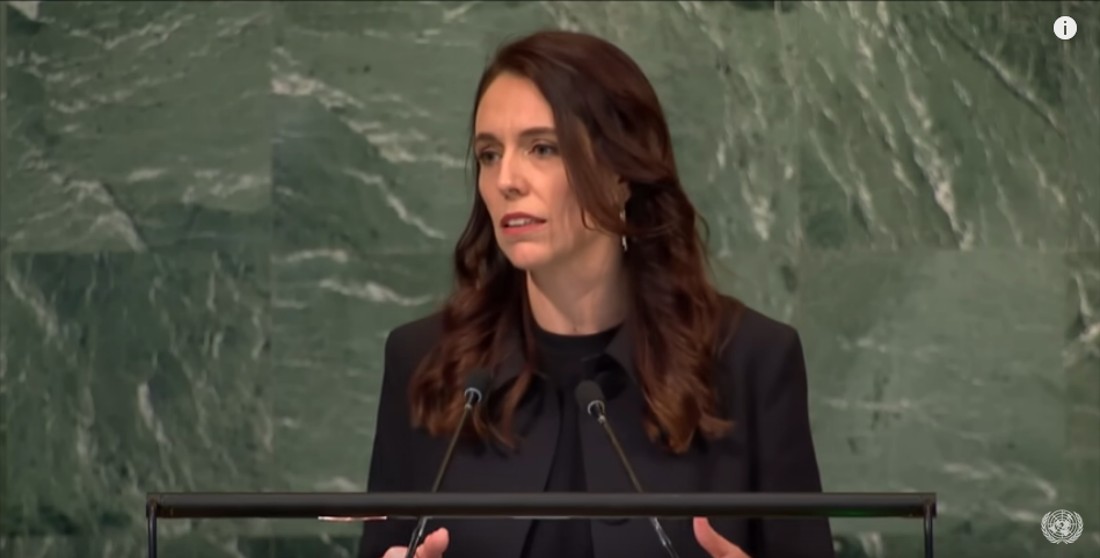 VIDEO AT THE LINK
New Zealand Prime Minister Jacinda Ardern wants to treat words as weapons and crack down on them. Which may be the reason that we haven't heard much about the farmer protests that are protesting carbon emissions targets that will destroy their business. Ardern also says that she supports a global World Health Organization with international laws. Yikes! These are all concerning proposals. We're watching New Zealand! Sign up for our Free DAILY newsletter delivered right to your inbox first thing in the morning. ➜ https://redacted.inc
Details

Category: CV Injection Deaths Injuries NZ
Hits: 112
Write comment (0 Comments)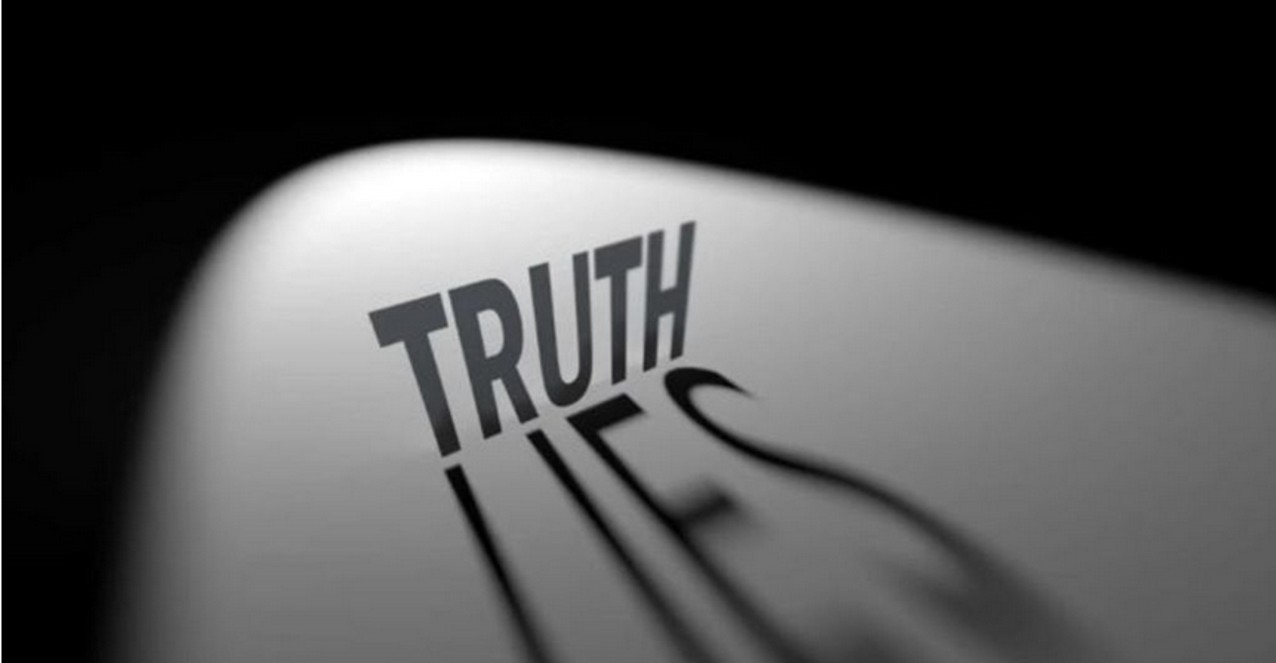 Sometimes, the struggle to accept the enormous wrongness of the situation facing us is overwhelming and makes words hard to find. Thankfully for us, this week two writers dear to us have produced reasoned and concise articles that each amplifies and complements the other.
Dr Emanuel Garcia is a psychoanalyst, psychiatrist and author who practiced in New Zealand from 2006 until his forced retirement due to the "vaccine" mandates in 2021. He is a member of NZDSOS who has been instrumental along with Dr Bruce Dooley in bringing to light, the origins and motivations of the global health crisis that the world faces today. He speaks out consistently with courage and intelligent insight against the New Zealand government's response to Covid-19.
Dr David Bell is a clinical and public health physician who has worked for multiple global health agencies including FIND in Geneva, the World Health Organisation and Intellectual Ventures Global Good Fund in the USA. He sits on the Executive Committee of Pandemics Data and Analytics (PANDA) and works as a senior scholar at the Brownstone Institute. He has a PhD in population health and background in internal medicine, modelling and epidemiology of infectious disease. As a global health practitioner Dr Bell has a strong focus on impoverished nations.
Details

Category: CV Injection Deaths Injuries
Hits: 95
Write comment (0 Comments)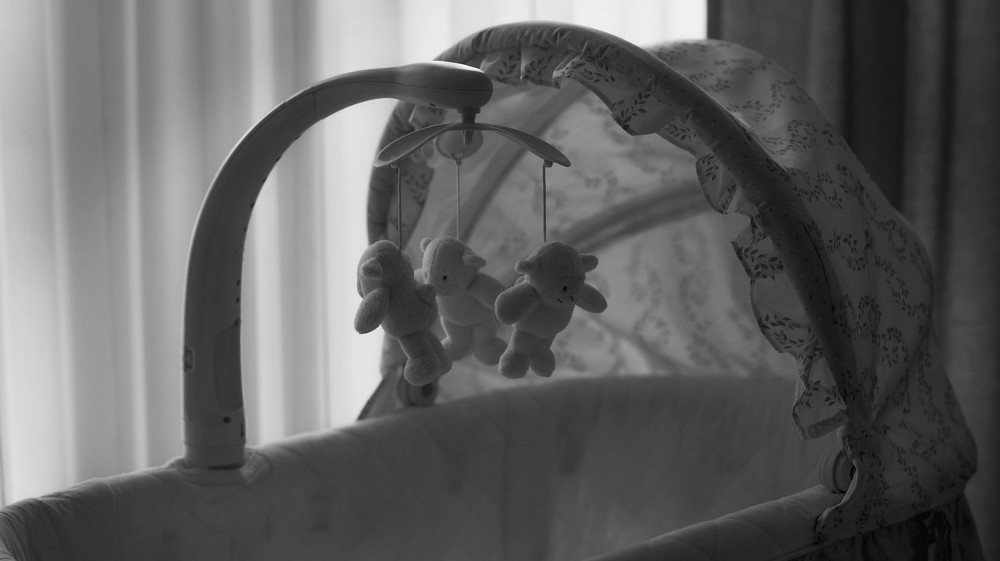 Originally from the Highwire and dated June this year, 2022. Posted by thevigilantfox.locals.com
Note: The information is bearing out now world wide going by various sources. Dr John Campbell at Youtube and elsewhere, facts and figures are being reported publicly. NZ's GaryMoller.com also. Not by MSM so much of course. NZ whistleblowers more recently also. TWNZ

WATCH AT THE LINK:
https://rumble.com/v17c2lr-the-war-against-babies-and-motherhood-vaccinated-women-and-the-sudden-surge.html
An Israeli journalist put together news stories from around the world and found strong evidence of a baby die-off in vaccinated countries and of vaccinated mothers.
- In Ontario, Canada, the baseline number of babies dying per quarter is around 5 or 6. Instead, 86 babies died.
- In Scotland, a highly-vaccinated country, twice the number of babies are dying.
- In Haifa, Israel, Rambam Hospital is showing a 34% increase in spontaneous abortions, miscarriages, and neonatal deaths in vaccinated mothers compared to unvaccinated moms.
Dr. Naomi Wolf: "There's a war against babies and a war against the right of mothers to know what's going into their bodies. None of this was disclosed to them..."
Full Video: https://www.redvoicemedia.com/video/2022/06/baby-die-off-and-the-culling-of-humanity-dr-naomi-wolf-joins-the-highwire-video-interview/
RELATED:
War On Children And A War On Parents – David Icke
Image by StockSnap from Pixabay
Details

Category: CV Injection Deaths Injuries
Hits: 154
Write comment (0 Comments)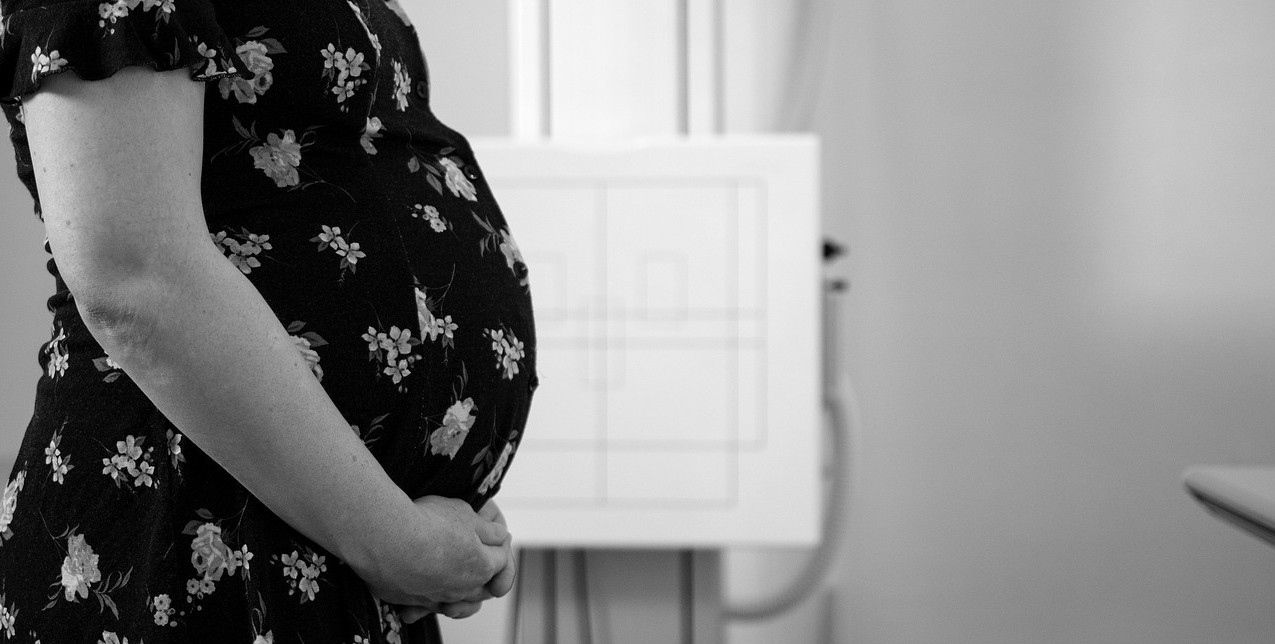 Please share this, particularly with those you may know who are considering pregnancy or are already pregnant. Folk are not being given full info on all of the risks as this MD will explain in no uncertain terms TWNZ

From Counterspin Media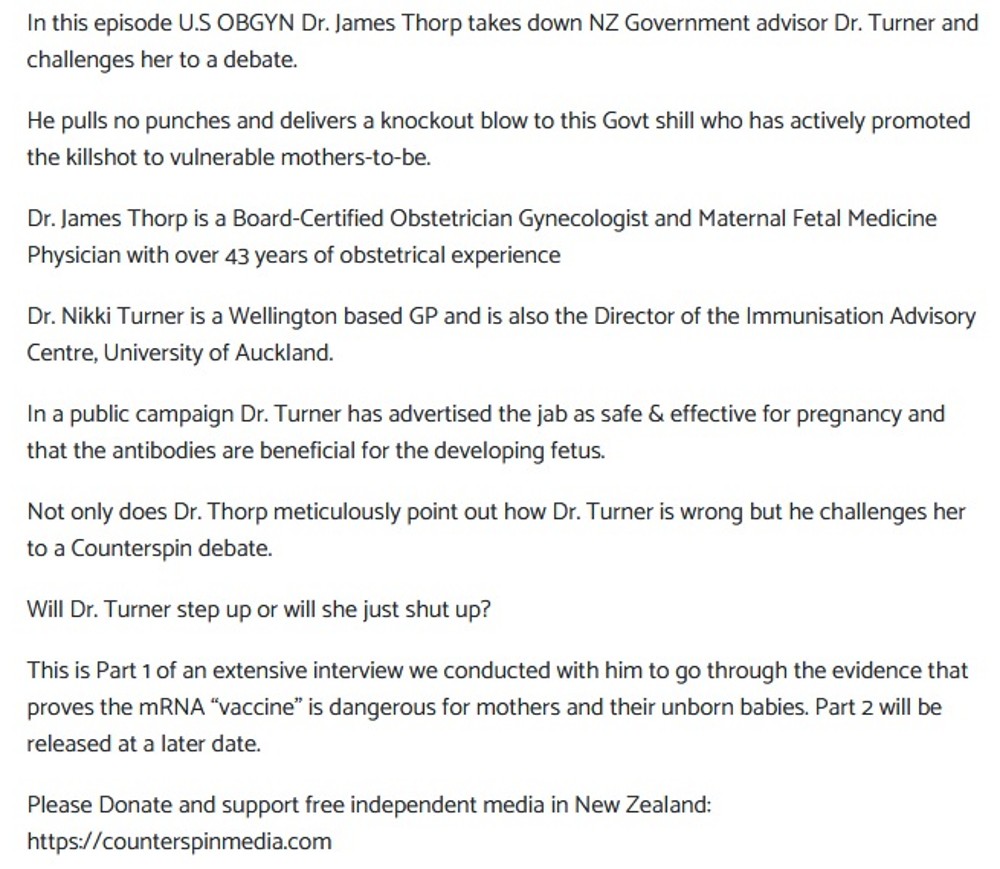 SOURCE
(Part 1)
https://counterspinmedia.com/blog/resources-videos/episode-75-dr-nikki-turner-you-are-murdering-people-now-debate-me-dr-james-thorp-md/
(Part 2)
https://counterspinmedia.com/blog/resources-videos/episode-76-murder-by-vax-must-stop-now-dr-james-thorp-md-interview-part-2/
Details

Category: CV Injection Deaths Injuries
Hits: 191
Write comment (0 Comments)
This man, Dr Sean Brooks has of course been 'fact checked' by the liars. Not hard to find one of those postings. However since he said what he did a year ago, what he said IS of course coming to pass, as I write.
A daily search of the words 'sudden deaths' will tell you that. Or visit Mark Crispin Miller on substack. He is keeping running records of these kinds of news items. Or for NZ based evidence visit garymoller.com ... particularly this post. Search the same on the alternative video channels for a pictorial display of folk keeling over whilst playing sport, announcing the news, giving speeches, guarding the Queen's casket and just about everywhere else you can think of. If you want facts and figures listen to Dr John Campbell (UK) on Youtube. It's so frequent now folk are getting ho hum about it. I've seen little forklift type vehicles scooping up the bodies in what looks like China or one of the Asian countries. Video footage of little ones screaming in terror because their mum has dropped. It is all so horrific it beggars belief. What is more frightening is that folk still think it is safe and effective. And ... that they are not letting up. Not one bit. They are still pushing it and targeting children.

WATCH AND LISTEN TO THE BRIEF CLIP AT THE LINK
https://www.youtube.com/watch?v=rGwuQeJaYjU&t=1749s
ALTERNATIVE LINK TO SAME SPEECH:
https://rumble.com/vnutb6-they-offered-up-their-children-to-demonic-gods-molech-being-the-main-one-an.html
Details

Category: CV Injection Deaths Injuries
Hits: 134
Write comment (0 Comments)