From the Health Forum NZ. (Note: the Health Forum has just incurred a seven day ban for posting about Vitamin D at Facebook ... seriously. If this does not make you question the official narrative, I wonder what will?) TWNZ
THE TEAM AT THE HEALTH FORUM SPEND ALL DAY EVERY DAY READING AND RECORDING COVID V ADVERSE REACTIONS
Consequently, we have an observational recognition of "trends" in reporting.
Right now the OVERWHELMING trend we are seeing (the almost identical story over and over and over again) is the reports of "heart inflammation".
Otherwise called MYOCARDITIS AND PERICARDITIS (the pericardium is the sack around the heart).
We knew this would happen, based on the same trends in the overseas populations ahead of us.
As younger people (especially teens and males) have received their shots in greater numbers, the heart inflammation issue has come to the fore.
Myocarditis is NEVER mild, despite what you will be told. These teens (but also men and women of all ages) experience traumatic symptoms of severe heart pain, breathlessness, erratic and fast heart beat, dizziness, extreme lethargy and incapacity.
Many of them remain virtually bed or sofa bound for weeks on end. Many of them receive multiple pharmaceutical medications for months, and are forced to withdraw from all physical activity and sports.
As New Zealanders down to the age of 12 years old are deemed competent to make their own "informed consent" for the Covid V, right now your children may be making this choice (causing many of you a great deal of distress).
The law is on their side, and you as the parent are rendered impotent.
There is something you CAN DO.
You can share this video with your children and teens....and guide them into following its recommendations.
Leave the second shot until at least 55 days after the first dose, to reduce their risk of potentially life long heart damage from Myocarditis.
In addition, your children and teens should abstain from all high intensity sports for at least 4 weeks after each of their shots. Sub clinical heart inflammation is now being acknowledged as a frequent event in young people after the covid V. Combining this with high intensity sport may place your child in danger.
Since the roll out of the vax, over 300 high intensity athletes (full covid vaxed) have collapsed during their performance, and over 165 of them have died of cardiac arrests.
Your Government, Ministry of Health, and Doctors should be telling you this.
Please protect your families with this information.
PLEASE COPY AND PASTE THIS INFORMATION AND SHARE WIDELY
(Facebook needs me to let you know "correlation does not always mean causation)
*Do you know that you can report your own ADVERSE REACTION to the Covid V, yourself? Report online at: nzphvc.otago.ac.nz
Myocarditis data from Ontario Province: Specific Vaccine & Interval between Doses | A Must Read!
https://www.youtube.com/watch?v=xzVoS-1TIWI&fbclid=IwAR0Jj43trjcrq58Ornn7WanbtEtWiuiQyu8blThXsOUt0UmWsOZTKRKUEb0
https://www.medrxiv.org/content/10.1101/2021.12.02.21267156v1.full.pdf
Young Athletes Dying after COVID-19 Vaccine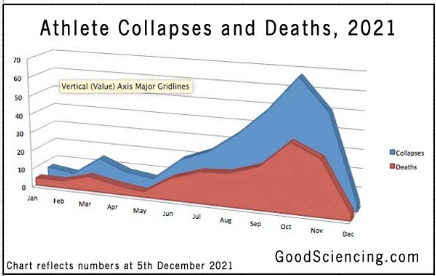 The pinnacle of health, athletes seem to have an edge over the rest of society. Their grueling workout and nutrition programs, mixed with natural genetic athleticism, puts them ahead of others in the natural immunity category. So why are young athletes suddenly collapsing and/or dying from heart complications?
The sports world has mostly mandated vaccines and athletes have been forced to either abandon their careers or get the jab. Since the COVID vaccines became available, nearly 300 athletes have experienced cardiac arrest and over 167 have died. Something is wrong.
READ AT THE LINK
https://www.armstrongeconomics.com/international-news/disease/young-athletes-dying-after-covid-19-vaccine/?fbclid=IwAR1epg9XPK8QAFm4X5QSOFZvx3KW1mWKZQMZv7wL5XnN7HeqV4wta0lyuzE