"NgAngA has hit the national news headlines in recent weeks with his innovative business approach, and the mainstream media have predictably demonised him for not complying with and enforcing the discrimination and apartheid of the New Zealand Traffic Light system and its associated Vaccine Passports." ... Kiwi4Justice
By Kiwi4Justice
He just calls himself NgAngA. The name is from his Australian Aboriginal tribe and it means 'Peace Maker'. When you look around his quite incredible Café-Art Theatre in Collingwood, Golden Bay, it is very clear that the name is highly appropriate, and that NgAngA is no ordinary human-being.
However, in more recent times of vaccine passports and Traffic Lights, perhaps another appropriate name for NgAngA could be 'Red Light Runner'. NgAngA will no doubt say that the two go hand in hand as he has implemented an innovative business solution to what he says is a Traffic Light apartheid system that is very sinister in nature and is not actually aimed at the health and well-being of his fellow human beings, but rather as a tool for ever increasing oppressive government control of the people.
NgAngA has hit the national news headlines in recent weeks with his innovative business approach, and the mainstream media have predictably demonised him for not complying with and enforcing the discrimination and apartheid of the New Zealand Traffic Light system and its associated Vaccine Passports. The original name of NgAngA's business was the MAD Café (Making A Difference), and now that name has been amended to be the MAD 'Club', which is both a café and an art theatre of NgAngA's own personal art work. Everyone is free to enter and dine at NgAngA's Café-Art Theatre, whether they are double jabbed, triple jabbed, quadruple jabbed, or vaccine free. Wearing a face mask is also a personal choice, which is a theme that NgAngA holds strongly to. Amongst numerous signs and messages of freedom of choice, human rights, and life philosophy that are scattered throughout NgAngA's business, is NgAngA's alternative traffic light which he has proudly sitting outside the entrance.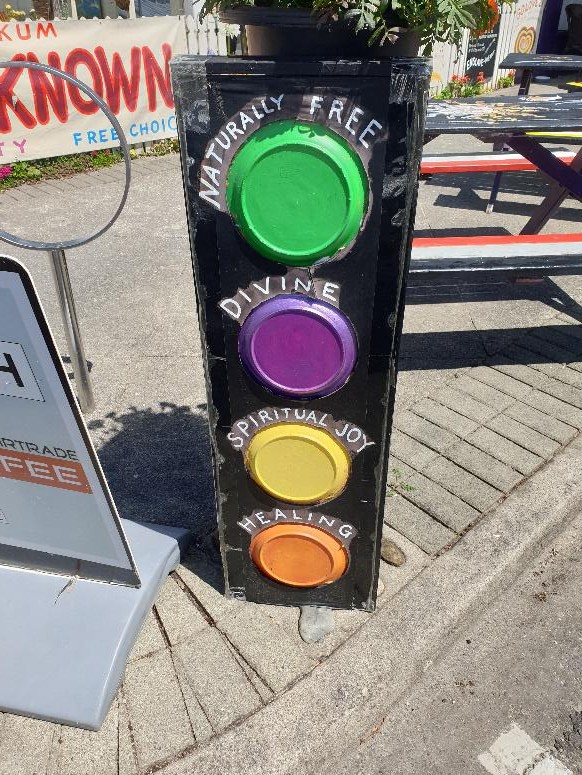 So how has NgAngA been able to get away with operating his Café-Art Theatre like this without being heavily fined or shut down? It all comes down to understanding and operating within different types of law that we have available to work with, or rather are supposed to have available to work with. In this case, due to the traffic light system and vaccine passports, NgAngA has chosen to change his Café-Art Theatre from a Charitable Trust with customers, to a Private Foundation/Club with either 'special guests' visiting, or paid up 'club members'.
So, when I entered NgAngA's Café-Art Theatre, without a vaccine passport or a mask, I was invited onto the premises as a 'special guest' in order to visit the 'Private Club/Foundation' which is now operating under 'Natural/Living Lore'. This is as opposed to entering a business or a company operating under 'Maritime/Corporate Law' as would be the case with other cafés around New Zealand. When I entered the premises, I filled out my details in the 'visitor book' as a 'special guest' of the club and I was subsequently served an exceptionally tasty breakfast and coffee by NgAngA's fellow Club/Foundation workers while I chatted with NgAngA about how his 'Club/Foundation' operated and marvelled at his incredible art work. If I wanted to, I could then pay my 'club membership fee' and become a member of NgAngA's Private Club/Foundation for future breakfast and coffee visits where I would then just register my club membership number at the door as I enter.
An important part of what NgAngA has done is that he has explicitly, in writing, cut his ties from choosing to (or being deceived into) operating within the system of 'Maritime Law' which the government likes people and businesses to work within. Maritime Law is the system of law that most of us understand and operate to in our everyday lives, even though we do not have to if we choose not to, and if we approach it in the right way. NgAngA has instead chosen to run his Café-Art Theatre according to 'Natural/Living Lore (Law)'. It is a slightly complicated process to initially understand if you are not familiar with these concepts of different types of law. Most of society is led to believe, and even deliberately deceived into believing, that Maritime/Corporate Law is the only law system in existence and that we have no choice but to work within that system. But this is not correct.
Without getting into the complexities of the legal frameworks, Maritime/Corporate Law could best be described as contract law between one corporation and another corporation. It can only deal with something that has been artificially manufactured or 'dead', such as a corporation or a manufactured object such as a car or a house, or an agreed 'contract of services' between two parties. Maritime Law is not able to have any jurisdiction over living or natural things such as a living man or a living woman, or natural land. Therefore, when the government states that someone must
have a Vaccine Passport to dine in a café under the government's Traffic Light system, it is making that statement under Maritime Law as one corporation (the NZ government) to another 'non-living corporation/entity', namely you, and also to the business/corporation that is the café and its owner.
But the absolutely critical piece of information here is that you are not in fact a non-living/dead corporation/entity. You can and should instead claim your lawful rights as a living man or living woman. If you choose to do this then you can instead operate according to 'Natural/Living Lore' rather than Maritime/Corporate Law. That is absolutely your lawful right to do so, and is a major part of why NgAngA has not been fined or shut down for the way in which he is freely operating his Café-Art Theatre without having to implement the government's oppressive Traffic Light apartheid restrictions and vaccine passports. It has also meant that NgAngA is extremely busy. While I was there dining and chatting to him, the people were streaming in and the place was full. Full of happy people, vaxxed and vax free mingling, dining, and chatting together, all with smiles on their faces. Smiles that you could actually see, on people who could actually breath properly. People who were just happy to be back in a tiny oasis of 'normality'.
Here is a short video of NgAngA explaining his new MAD Club set up https://youtu.be/PImwIvodMig
NgAngA has written up a formal 'Articles of Association' document detailing exactly how he is operating in this way, and anyone can do this if they go about it in the right way. NgAngA is happy to share this document with others as he wants to spread that message across New Zealand so that other places in New Zealand can do similar. Not far away from NgAngA's MAD Club, the replication of this process is occurring. In Nelson the Richmond Markets were originally being required to enforce vaccine passports and mask mandates. So instead of that they moved to another private location and set themselves up according to Natural/Living Lore, open to everyone, without restrictions, and adjusted their name to the 'Richmond Freedom Markets'. Their Natural/Living Lore sign on the gate gives the message very plainly for those Crown or Corporate entities who would wish to come onto the premises to challenge what is happening according to the requirements of their 'Maritime Law' system.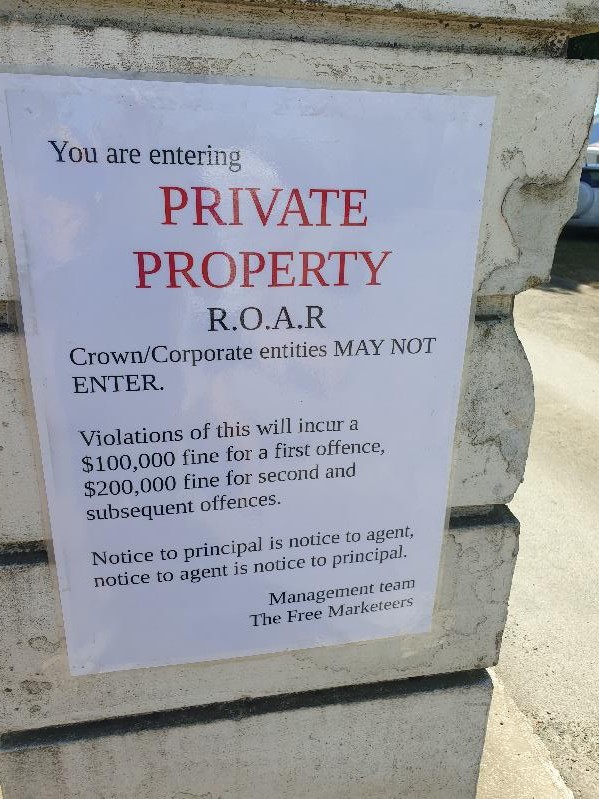 For those vaccine free people who are unable to get a haircut in 'normal society' due to vaccine passports, they can get their hair cut very nicely at the Richmond Freedom Markets. But get in quick. The queues were VERY long when I visited.
Down the road, the Motueka Markets are not doing so well. They were also required to implement vaccine passports and mask mandates, which many of the stall owners did not want to do. Many of them have now relocated their stall to the Richmond Freedom Markets instead. The Richmond Freedom Markets are now at their maximum capacity for the 150 stalls that they can accommodate, and they have a long waiting list. Meanwhile the Motueka Markets, with their vaccine passports and mask mandates, are battling to exist.
It seems that there are a lot of people in New Zealand who are not happy with vaccine passports and Traffic Light apartheid. Apartheid should never be acceptable in any way, shape or form, under any circumstances, especially here in New Zealand. It's great to see that there are many people in New Zealand who have the moral integrity and courage to stand up and say NO to this in their own innovative ways.
Here is a good little video of how the Richmond Freedom Markets have set themselves up https://youtu.be/Pm_Wjr7vVGg
For more information on Natural/Living Lore versus Maritime/Corporate Law here is a useful link to some great resources. https://aag.org.nz/blog/resources/living-man/?no-play=1
In the meantime, NgAngA will continue his very busy life of looking after all of the people, vaxxed and vax-free, that he invites as special guests into his amazing MAD Club. He will continue to 'Run the Red Light' in his own special way as a 'Living Man' and as the 'Peace Maker' of Golden Bay.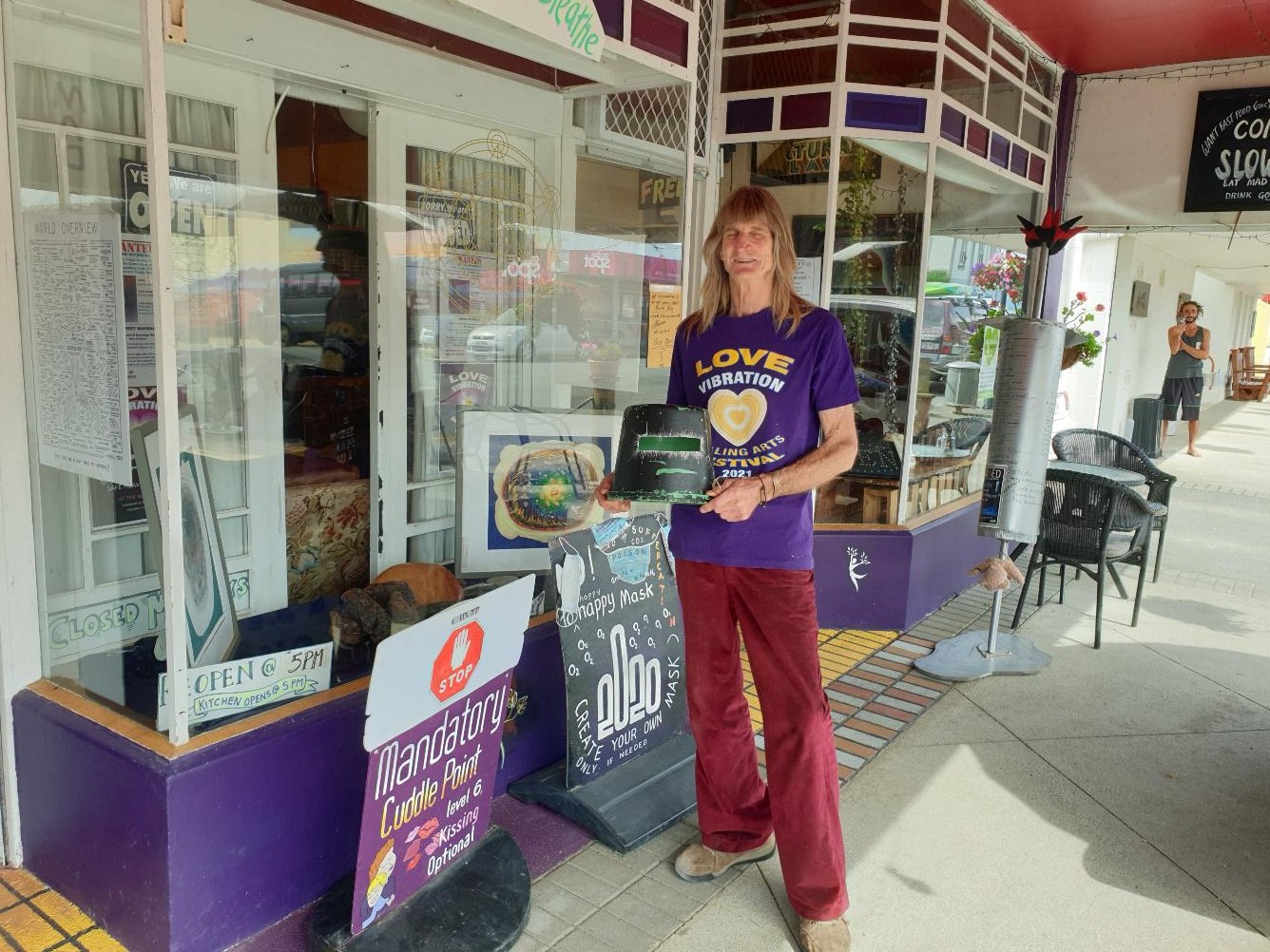 'NgAngA' proudly shows off his Ned Kelly 'face covering' outside his Living Lore Café and Art Theatre