For those of you who have your eye on the ball so to speak, these are job opportunities not commonly seen in our 'freedom loving democracy' of NZ. Any items concerning surveillance are generally described as necessary for the safety of citizens. Not too many years ago this site and others were being watched by a security agency contracted by DoC. Anybody who does not agree with their methods of pest control are not looked kindly upon and are considered a threat to the safety of others it would appear. Similarly the ads below for surveillance staff highlight that a part of their role is protecting New Zealand and its citizens.
QUOTE: " … together, we're doing extraordinary things to protect New Zealand and New Zealanders."
Please make of these ads what you will. Some of the role descriptions would easily, in my opinion, win a prize for gobbledegook. Very difficult to discern just exactly what the job entails.
The first two ads noted in May & June 2022, and the last two in November 2022:
SURVEILLANCE OFFICER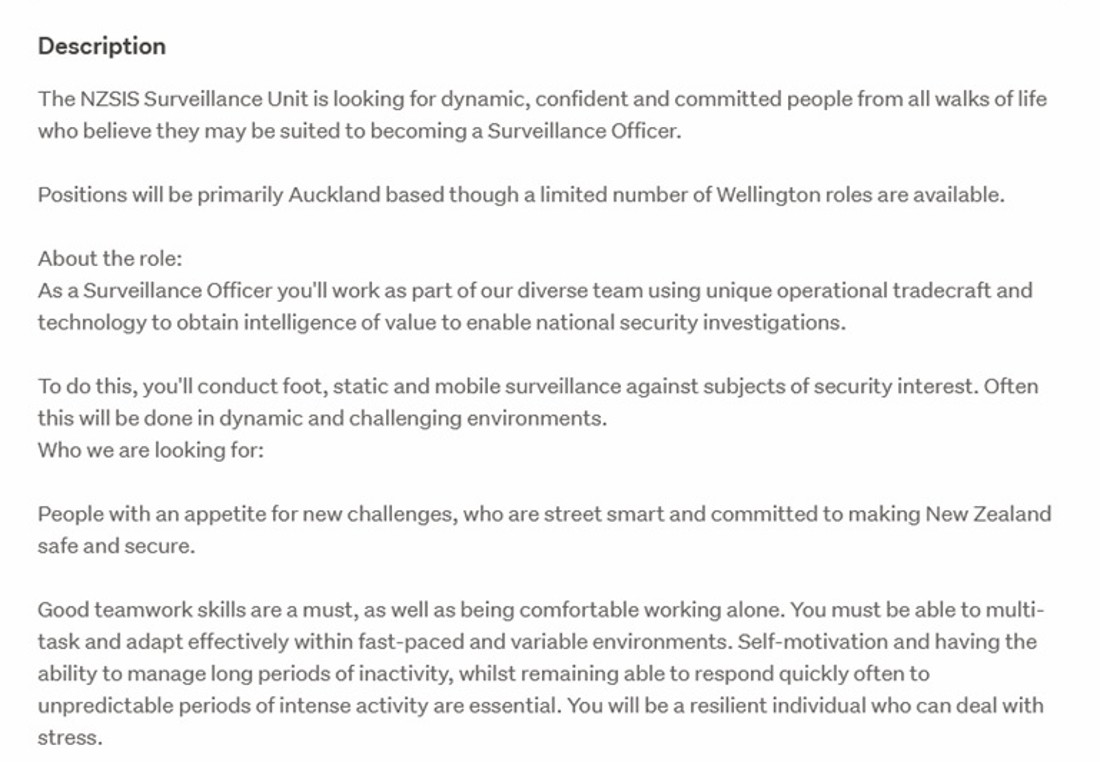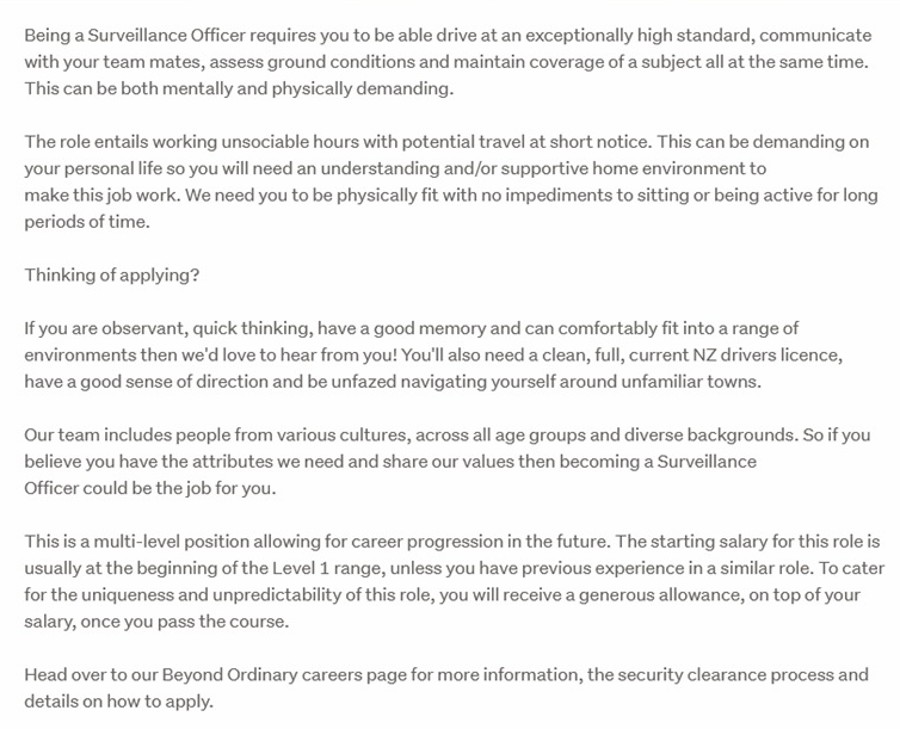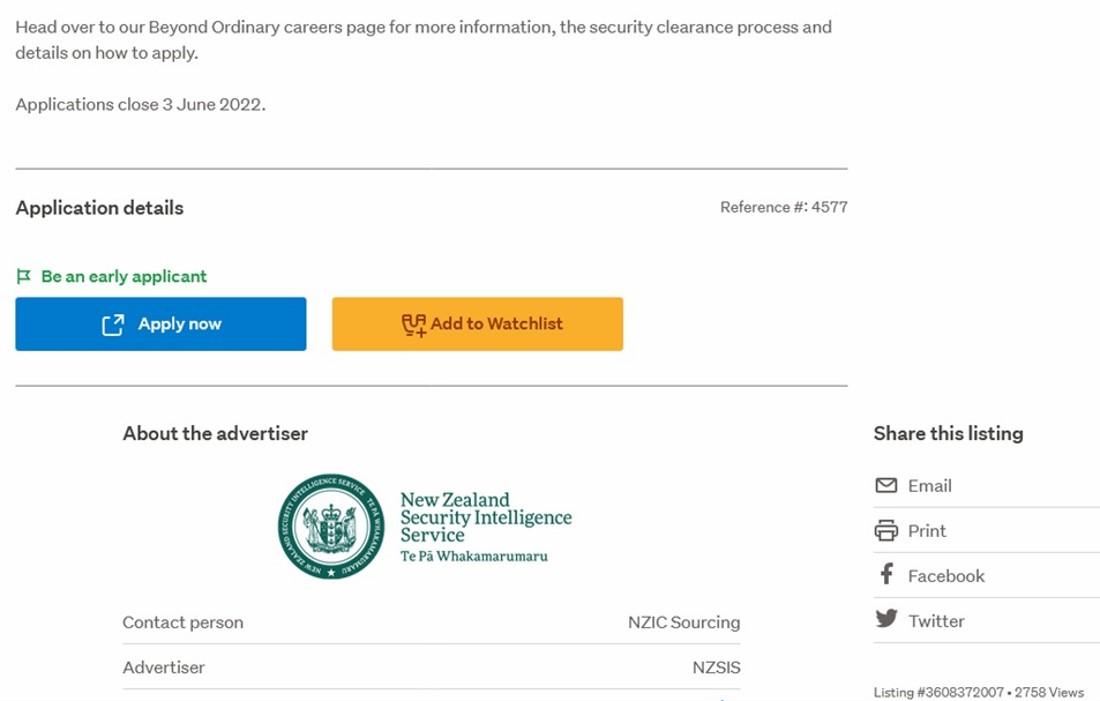 POSITION 2

Description
Our work is secret, but the reason for our success isn't. It's our people. And we're just like you. We're ordinary people. But together, we're doing extraordinary things to protect New Zealand and New Zealanders.
This new position is at the centre of our dynamic, exciting and fast moving operational function, directly supporting NZSIS security and intelligence missions.
The role: Your focus in this role is to plan and coordinate surveillance deployments, ensuring resources are used effectively to maximise the delivery of priority intelligence outcomes.
You'll achieve this by representing the Surveillance Unit across the Intelligence Community and partners – initiating, enhancing and maintaining relationships to support our purpose to achieve successful and coordinated operational results.
You will lift our operational capability by contributing to surveillance training objectives as well as undertake research and development to support the delivery of new capabilities.
We're looking for someone with:
Experience planning and/or coordinating operationally deployed teams within an intelligence, security, law enforcement, defence or similar environment

Operational planning knowledge and an understanding of operational risk assessments

Knowledge of the domestic security environment

Excellent relationship management skills and ability to collaborate and build strong partnerships

Sound judgement, critical thinking and initiative in dynamic situations

You may also need to be available to work flexible hours at short notice
We offer our people comprehensive benefits, flexible working and great work-life balance. Join us and let us help you become Beyond Ordinary.
Applications close on 28 June 2022.
To be eligible for employment within the NZIC you must have been a NZ citizen for at least 10 years. Alternatively you must hold a current NZ Residency Class Visa and ideally have been a citizen of UK, USA, Canada or Australia for at least 10 years.
You must be able to obtain and maintain a Top Secret Special (TSS) security clearance. Ordinarily to obtain this level of clearance candidates must have a 15 year checkable background in countries where meaningful and reliable checks can be undertaken. Where requisite checks are unable to be made, the candidate application may not be able to be progressed.
Use this online tool to self-check your eligibility for a TSS security clearance. Please note that this tool is not part of the formal security clearance process: http://www.protectivesecurity.govt.nz/eligibility-tool
The NZIC treats all applications for employment in the strictest confidence and we ask that you maintain a similar level of confidentiality. You are expected to exercise discretion during the recruitment process and throughout your career.
Our Covid-19 vaccination policy requires all employees to be fully vaccinated. You will be required to provide evidence regarding your vaccinations status.
Pasted from <https://www.trademe.co.nz/a/jobs/government-council/other/auckland/auckland-city/full-time/listing/3638578238?bof=YiVw0Lv2>
---

Apply now
Location Wellington
Job type: Full time
Duration: Permanent
Pay and benefits + Kiwisaver & Health Insurance
Description
Do you:
lead by example and have a hands-on approach to team success?

drive collaboration and find pathways to achieve successful outcomes?
The NZSIS Operational Solutions Unit is seeking Operational Capability Officers. Our OCOs are at the forefront of leading the delivery of new or improved operational capabilities to ensure that NZSIS collection efforts are effective, relevant and sustainable in a fast changing world.
The role:
What do we mean by operational capability? For us, it is the ability for our people to achieve operational objectives. Those objectives may involve work such as the successful use of technical and digital capabilities, management of human sources, and better exploitation of data or deployment of surveillance assets. The primary people we enable are our NZSIS intelligence operators.
Success in this role would see you delivering operational capability that gives staff better intelligence from existing and new accesses, or even from targets that were previously too hard.
The two main areas of work are:
developing, maintaining and enhancing productive relationships with partners in pursuit of generating enhanced operational capability;

establishing and undertaking research, development, coordination, delivery and integration to ensure our operational units are best equipped to conduct intelligence operations.
OCOs can work across both of these areas but may express preference for a specific team. Roles are based in Wellington and Auckland.
To be successful in this role you will be:
collaborative and willing to use your initiative to deliver operational capability work streams in a new and growing team;

at the forefront of implementing and embedding new processes and systems, and continuously improving them;

ensuring processes are fit for purpose leading to the delivery of genuinely new innovative operational capability that balances assurance and rapid implementation for our operational staff;

flexible and adaptable, contributing your intelligence background and problem solving aptitude to helping shape how we deliver new operational capability;

working on multiple varied workstreams – which might be centred around new equipment, a new relationship, new policy or agreement, or even a new way of collaboration – all in the pursuit of enhanced operational capability.
The ideal candidate will drive innovation and be able to multi-task and plan. You will enjoy working under pressure and have pride in delivering solutions that directly enable our operational staff. This role works alongside, and has access to, a new team of like-minded colleagues who will have significant input in deciding the best way, or alternative ways, to deliver. Additionally, you will build a strong level of trust with established teams and become a respected knowledge source and problem solver.
Key attributes:
Driven to collaborate, partner and independently plan and deliver on work streams

Be prepared to travel domestically and internationally in pursuit of operational capability planning or relationship building

A dedicated, highly motivated team member displaying initiative and willing attitude

Comfortable with breaking new ground, change and embedding new processes and systems

Your background should include experience in an intelligence context, operational /project management or planning, exposure to intelligence collection, relationship management and problem solving
What we offer:
A range of benefits that include professional development and working with a group of people who are passionate about protecting and advancing New Zealand's way of life. The work is interesting and most importantly, the outcomes from your work will have a direct impact on the security and well-being of New Zealand.
For more information about the role and how to apply, visit our website today!
Pasted from <https://www.trademe.co.nz/a/jobs/it/project-management/wellington/wellington/full-time/listing/3847908999>
---
Contact Tracers Work from Home- job post
Alpha Personnel Recruitment Ltd
New Zealand
•Temporarily remote
Full-time, Part-time
You must create an Indeed account before continuing to the company website to apply
Apply on company site
Temporarily remote (COVID-19)
Full Job Description
Are you looking for a phone based role where you can work from home' An excellent opportunity has arisen for someone with experience in medical administration, general administration, customer service, retail or hospitality to assist with Covid 19 contact tracing. This role is home based so you will need reliable internet and computer to work on. You will also need to be confident with computer packages and apps so you can set up your computer with what is required for the role. A work phone is provided. We are looking for someone to work full time hours Monday to Friday 8am – 4.30pm and also a couple of part time staff available same hours 2-3 days a week (week days). For this role you will need to be available for 3 months or longer and be available to work through the Christmas/New Year period.
Duties include:
Phone and email management and liaison with Government departments to obtain information

Excel Spreadsheet updating

Interviewing (remotely) stood down staff who have tested positive for covid19

Other adhoc duties as required
To be considered you would have:
Excellent communication skills and a calm nature

Good attention to detail and the ability to work well in a team

Intermediate to Advanced MS office and the ability to pick up new systems quickly

Flexibility to come into work with short notice when required around other commitments

A can-do attitude and the ability to problem solve

The flexibility to work longer term on a month by month basis
If you are available to start asap working longer term on a month by month basis and you want to make a difference apply now to be considered.
Pasted from <https://nz.indeed.com/Contact-Tracing-jobs?vjk=c35fb5de843c4f7c>
RELATED
EXCLUSIVE: Bill Gates Negotiated $100 Billion Contact Tracing Deal With Democratic Congressman Sponsor of Bill Six Months BEFORE Coronavirus Pandemic
'Contact Tracing': A Panopticon Grid Of Total Surveillance
Contact Tracing: When Game Night Turned Into A Nightmare
Coronavirus: New Zealand considering $100m contact tracing 'CovidCard'
Pfizer Patent For Remote Contact Tracing Of All Vaccinated Humans Worldwide – Original Document
SOURCE
https://envirowatchrangitikei.wordpress.com/2022/12/02/the-nz-security-intelligence-service-has-been-advertising-for-surveillance-officers-and-contact-tracers/