The internet is abuzz with the so-called 'conspiracy theory' of 15 minute cities in NZ.
Long sold out lamestream media is pumping that line again or should I say 'still'. As I noted recently, the headline, 'Censorship is the last bastion of those without an arguement' … one could easily substitute 'propaganda' there for 'censorship'. Both familiar words now aren't they?
Turns out Hamilton DC was touting 20 minute cities back in 2020… interesting timing. Right when folk were locked down (for two weeks+) to flatten the curve. They looked at it back then, assisted by Waikato University (their 2021 report and video at the link). The video is all the way from the UK, host for the Oxford 15 minute city there that folk are pushing back against (check out the videos in that link, looks more like a military check point there than an eco friendly paradise… they detain a woman trying to drive to work). See here also.

Hamilton Council hosted a meeting on topic this week apparently and a large crowd turned up. Was that because it's such a great idea or because they smell a rat? The Twitter comment from DemocracyNZ notes concern about lack of consultation (nothing new note for District Councils NZ wide):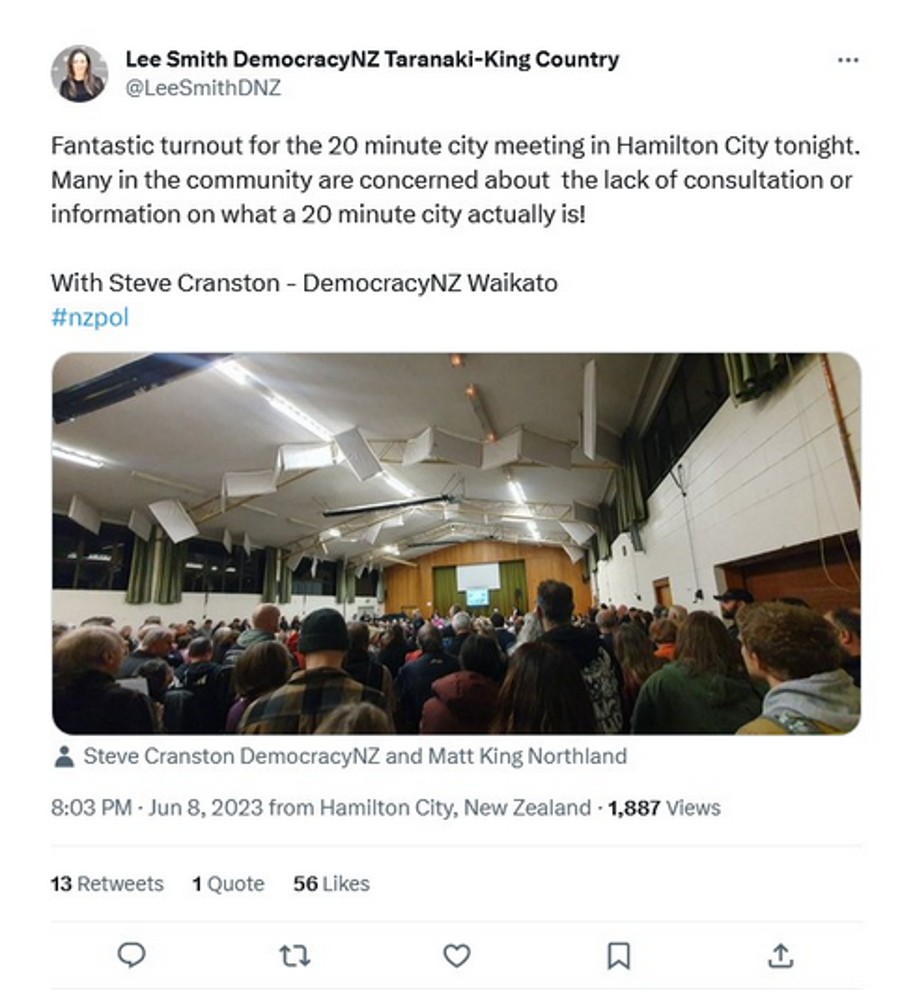 Then there is the proposed Sunfield suburb in Auckland. (Be sure to watch the videos there). It does look so very benign, solar powered, an electric shuttle and all those lovely gardens (that they've been pushing on small towns anyway for years. Witness Foxton and the big 1.5 mill spend there when folk said they weren't consulted & they only wanted clean water). Gardens are nice but all those dollars for developers and Councils now knee deep in debt? How sustainable is that? It really doesn't all add up does it?
As Stuff asks (debunking 'conspiracies'): Convenient street planning or open-air police state … on the surface 15 minute cities could be really great, however I don't like the look of those checkpoints to be honest.
RELATED:
PREPARE for the Indefinite Climate Lockdown Coming!
15-minute cities in New Zealand: A visualisation
A 15 mins city (Manatu Hauora)
'Consultation' & the little known Delphi technique – promoting the illusion of democracy & helping you think you've had a say