Recently the NZ SIS was advertising for surveillance officers "for surveillance against subjects of security interest".
Now we hear Bill Gates is planning a pandemic army that will require some 3,000 surveillance officers.
"Making NZ safe and secure".
Since the now expired initial listing, the NZ government is advertising for a security psychologist "to deliver psychological services to better enable the NZ Intelligence Community". Did you hear about this incident back in 2006?

Spying on NZ citizens isn't new. The NZ govt hired Thompson and Clarke in 2019 to spy on 1080 activists ... those people advocating for clean, non contaminated water supplies. See this list for further examples.
You can listen to a commentary on Bill Gates' proposal here at the link to The Grayzone video channel below.
Journalist Jeremy Loffredo joins Max Blumenthal to discuss Bill Gates' plans for a supranational pandemic "GERM" force, and to discuss his reporting from Davos, where he questioned World Economic Forum attendees on Gates' well-documented ties to the late sex trafficker Jeffrey Epstein. Watch the full episode and catch all of Max Blumenthal's exclusive live interviews at Rokfin:
https://rokfin.com/stream/18879/Davos...
" An army that will have the power to go into any country, violate their sovereignty, declare a pandemic and then implement a response, regardless of what elected leaders want which goes to the heart of this treaty ... at a cost of $1billion paid for by the respective countries [of course!]..."

LISTEN AT THE LINK
https://www.youtube.com/watch?v=8LQLtXvWHx0


Below is the ad for surveillance officers (now closed at Trade Me Jobs):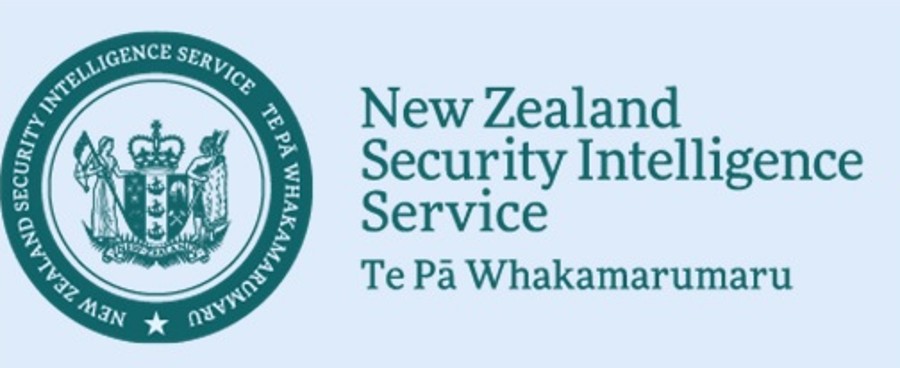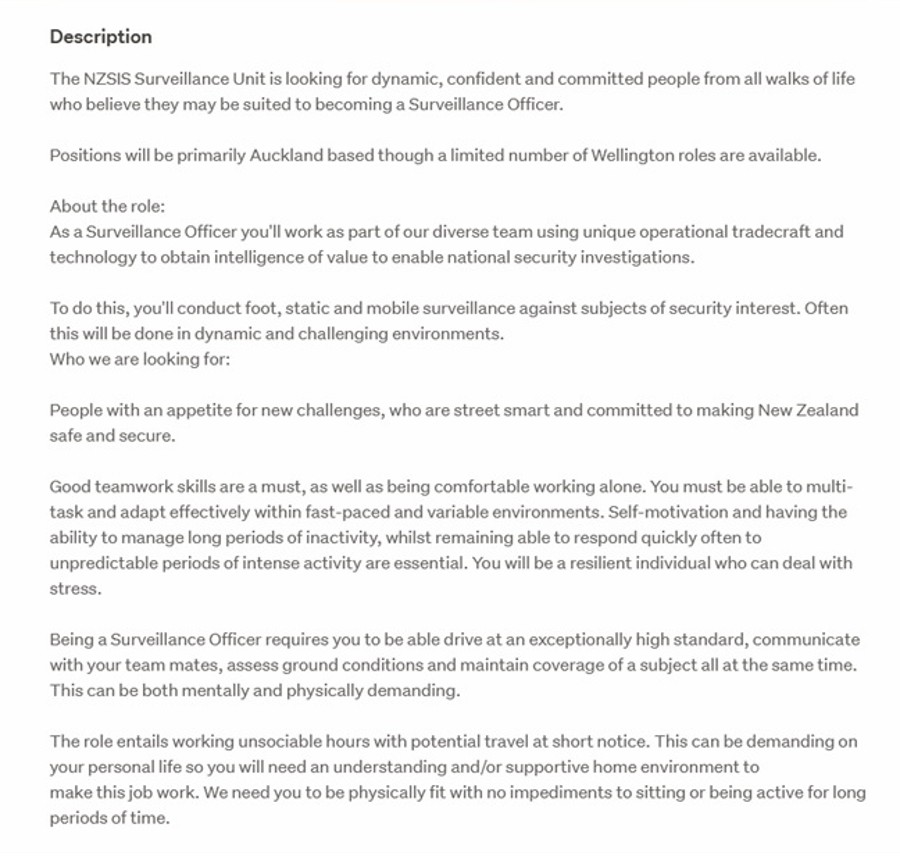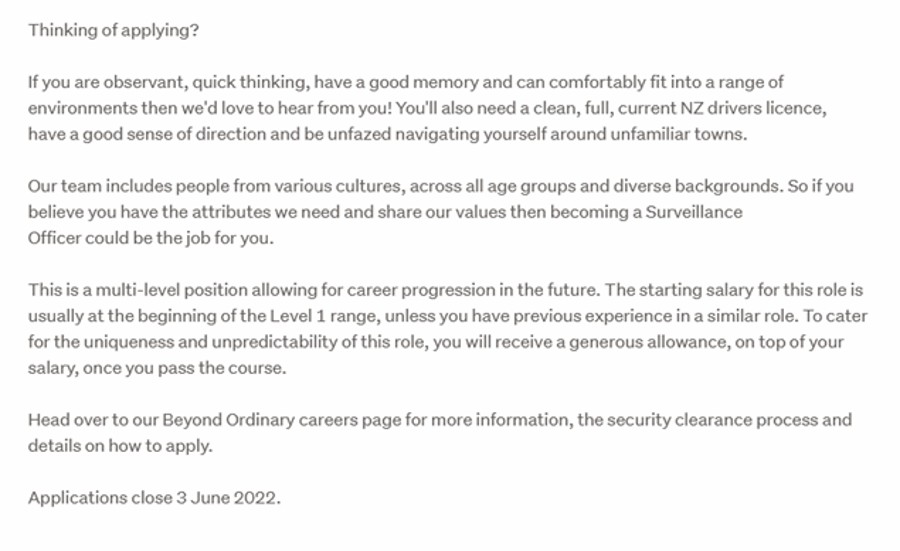 Below is the current ad for a psychologist (15/6/22):
Security Psychologist (Vetting)
NZSIS
Listed 5 days ago
Be an early applicant
Listing Description
Key details
LocationWellington, Wellington
Job typeFull time
DurationPermanent
Description
Our Psychology Services team is expanding and we are looking for someone with energy and drive to deliver psychological services to better enable the NZ Intelligence Community.
The team has been established to develop, maintain and oversee the delivery of psychological services to support the people in our community.
About the role: As an innovative and effective practitioner, you will provide subject matter advice and guidance to support to the Security Clearance process. You'll have a breadth of post graduate clinical experience in Adult Mental health, including the assessment and treatment of depressive, anxiety, obsessive-compulsive and stressor related disorders, as well as substance related and addictive disorders.
Day to day you'll be involved with:
Psychological assessments of candidates applying for security clearances

Training and development of key stakeholders in the psycho-social elements connecting to the security clearance assessment process

Report writing and facilitating psychological assessments with external Psychologist providers

Applied research for continuous service improvement for security psychology practices
About you: We are looking for someone with:
Extensive experience administering and interpreting a range of psychometric tests, and completing complex assessments

Experience working in multi-disciplinary teams with non-psychologist teams

Well developed relationship management with strong customer focus

Evidence of a continuous improvement and innovation

Ability to operate in a dynamic work environment
The role will suit someone who values diversity and inclusion and can work collaboratively and independently in a small team environment.
You will also have a minimum of a Masters level qualification with experience in clinical and/or forensic psychology and be registered under the clinical scopes of practice with the NZ Psychologists Board.
We want our people to succeed, whatever success looks like for them. Join us and we'll give you significant professional development opportunities aimed at taking your career in the direction you want it to go. You won't stand still with us as we're committed to ongoing learning and continuous improvement.
We're also committed to your wellbeing. We want our people to be the best they can be, both at work and at home. We offer our people comprehensive benefits, access to staff networking groups, flexible working and great work-life balance.
Applications close 26 June 2022.
To be eligible for employment within the NZIC you must have been a NZ citizen for at least 10 years. Alternatively you must hold a current NZ Residency Class Visa and ideally have been a citizen of UK, USA, Canada or Australia for at least 10 years.
You must be able to obtain and maintain a Top Secret Special (TSS) security clearance. Ordinarily to obtain this level of clearance candidates must have a 15 year checkable background in countries where meaningful and reliable checks can be undertaken. Where requisite checks are unable to be made, the candidate application may not be able to be progressed.
Use this online tool to self-check your eligibility for a TSS security clearance. Please note that this tool is not part of the formal security clearance process: http://www.protectivesecurity.govt.nz/eligibility-tool
The NZIC treats all applications for employment in the strictest confidence and we ask that you maintain a similar level of confidentiality. You are expected to exercise discretion during the recruitment process and throughout your career.
Our Covid-19 vaccination policy requires all employees to be fully vaccinated. You will be required to provide evidence regarding your vaccinations status.
Application details
Reference #: 4542
Be an early applicant
---